Posted on 01/20/2015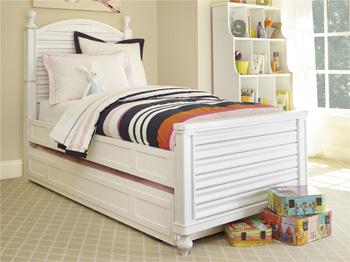 Tailoring your general sense of style and applying basic principles of interior design can be a little tricky when it comes to arranging kid-friendly spaces. On one hand, you don't want your kid's room to have to look just like your own bedroom. But on the other hand, you don't really want Mickey Mouse decorations peeking out from behind everything or to have to redecorate every single year!
By following a few basic principles of design and taking your kid's perspective into account, you can have the best of both worlds. Or rooms.
Quality Furniture
This is the most important starting point. Like the basics of your wardrobe, you want these pieces to be made from solid wood and constructed with quality in view. You do not want trendy styles or loud colors here. In addition to a bed, you'll need some storage pieces such as a dresser and night stand, as well as maybe a desk and chair, if you plan to have your child do homework in his or her bedroom.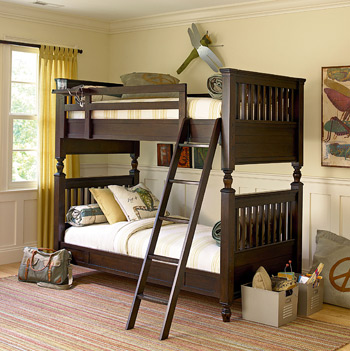 Depending on your priorities, you may want to consider either our Maxtrix® Furniture System or Smartstuff™ Collections. For instance, if you have plans of adding to your family or desire the greatest possible flexibility of rearranging furniture in creative ways, you may want to consider Maxtrix®.
If, however, you want something with a specific time-honored style that provides built-in charging stations and lighting, you'll want to look at our many Smartstuff™ offerings.
Accent Pieces
When it comes to design, a focal point is huge. Be it an accent wall that gives a pop of color, a unique decorative piece of furniture that's been in the family for years, or a piece of artwork that your child created, you'll want this piece to stand out from the rest of the room and provide design direction for the rest of the room.
For instance, you may want to choose colors for bedding and other accessories based on the artwork that you chose. And you'll want to accentuate that artwork by making sure its backdrop is a contrasting color.
Personal Taste
If there's anything universal about kids' favorites, it's that they change. Sometimes overnight. Our advice? Stay away from purchasing big-ticket items in keeping with a trend or in any way attaching specific characters to your walls or furnishings.
Instead of installing a border that would need to be removed, you could create frameable prints that are easy to switch out when a new favorite character emerges. Instead of an entire comforter set, maybe you could just get a pillowcase to showcase the flavor-of-the-month.
In addition, you can provide a bulletin board for older children to decorate according to their whims, without causing damage to your walls or requiring major purchases when their tastes change. Again.
The Bedroom Source
Located near the Roosevelt Field Mall on Long Island, The Bedroom Source is your source for the best collection of children's and teen bedroom furniture. From flexibly configurable Maxtrix furniture to fashionable Smartstuff collections, The Bedroom Source offers high end furniture and professional design assistance to create the bedroom of your child's dreams.
Contact the friendly staff at The Bedroom Source by calling (516) 248-0600 or by submitting our online contact form. We're a local family owned mom & pop store. When you shop with us, you're dealing directly with the owners. We professionally assemble everything we sell. We deliver to Nassau, Suffolk, the 5 Boroughs, Southern Westchester, Southwestern Connecticut & Northern New Jersey.