Posted on 05/26/2015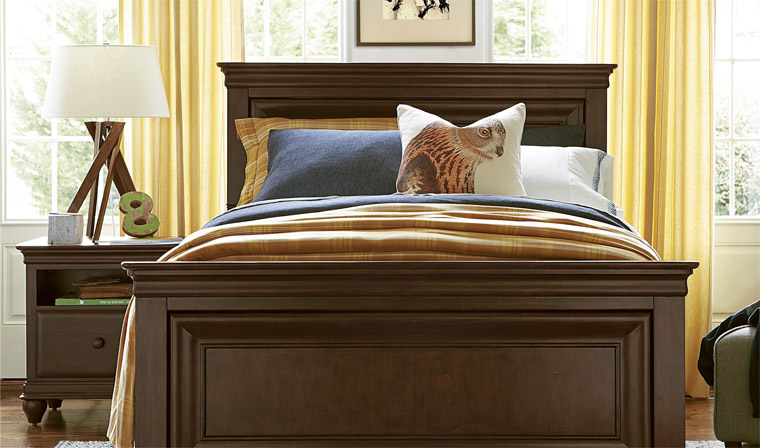 In keeping with the other styles within our Smartstuff™ Line of kids' bedroom furniture, the Classics 4.0 Collection offers a traditional outline for sleep space that does double duty as a study space and even accommodates the entertainment equipment of today's tech-savvy teens. From preschoolers to young adults, Smartstuff™ furnishings can accommodate your child as he or she progresses from just learning the ABCs to conjugating Spanish verbs and even applying for grad school!
The Beauty of Classics 4.0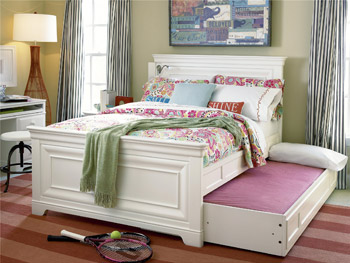 It's not just the Smartstuff™ features that make the Classics 4.0 Collection smart: These pieces even look like they'd have a high I.Q. Intelligently designed with gender-neutral elements, each piece comes in three different finish options: Saddle Brown wood stain, Classic Cherry wood stain, or Summer White painted finish.
The timeless and traditional elements of Louis Philippe styling include lapped drawers, round wood knobs, softened edges, and stylized bun feet. This throw-back to a less utilitarian age evokes images of richly furnished libraries, oil paintings, candelabras. But when paired with modern décor, the combination can provide a startlingly sophisticated marriage of old and new, traditional and innovative.
The Brilliance of Smartstuff™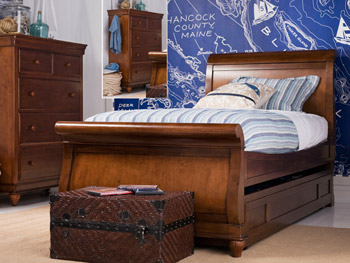 Underneath the deceptively timeless exterior of each Classics 4.0 piece is the timely practicality of Smartstuff™ elements. For instance, details like coasters in the nightstand and an ergonomics guide inside the desk will help your little scholar make wise choices. And you won't have to replace this furniture anytime soon, with the kind of quality construction used.
Moving parts like drawers are especially made with care — think front and back British dovetailing, self-closing, and built-in drawer stops. Bed rails bolt together firmly with metal bolts and pins, and a plywood slat roll ensures a solid foundation. Dressers include anti-tip restraint hardware, and lead-free finishes along with small openings to eliminate entrapment risks make this a smart choice for a child's first — and only — "big kid" bedroom set.
The Building of Classics 4.0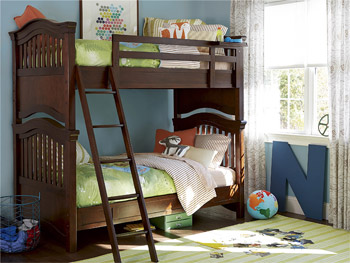 Each piece within the Classics 4.0 line radiates both beauty and brilliance — what's more, you have plenty of options from which to build your child's ideal space for sleep and study.
Available beds include Bunk Beds (in both Twin and Twin-over-Full sizes), Sleigh Beds, Low Post Panel Beds, and Panel Beds. The Panel Bed includes built-in lighting for the studious night owl. Each bed style comes in both Twin and Full sizes, and Twin Beds can be paired with either Trundle or Storage Units, and Trundles can be used for either an additional mattress or storage.
Other pieces include the same kind of storage-savvy design, along with tech-friendly innovations. The Desk includes a pull-out tray that provides room for a keyboard or extra work space; you can complement the Desk with an optional Hutch, Stool, or Swivel Chair. A Media Chest or Drawer Dresser with Flip-Down Drawer offer the perfect spaces for today's technology. Additional pieces include a Storage Mirror, Tilt Mirror, Night Stand, Book Case, and Dressing Chest.
The Bedroom Source
Located near the Roosevelt Field Mall on Long Island, The Bedroom Source is your source for the best collection of children's and teen bedroom furniture. From flexibly configurable Maxtrix furniture to fashionable Smartstuff collections, The Bedroom Source offers high end furniture and professional design assistance to create the bedroom of your child's dreams.
Contact the friendly staff at The Bedroom Source by calling (516) 248-0600 or by submitting our online contact form. We're a local family owned mom & pop store. When you shop with us, you're dealing directly with the owners. We professionally assemble everything we sell. We deliver to Nassau, Suffolk, the 5 Boroughs, Southern Westchester, Southwestern Connecticut & Northern New Jersey.