Posted on 02/01/2015
This year, the trend toward non-candy valentine gifts and DIY cards continues, providing the perfect opportunity for parents to make some great memories while crafting with their kids. If you're not careful, craft projects can get far too involved to be fun, never mind become cost-prohibitive. So we're going to look at a few fun and easy ideas you can easily do yourself.
Invisible Ink Messages
Really, invisible ink isn't that difficult to make! If you want to treat your own kids or a few close friends, these spy-savvy pens with black lights would be fun, as well.
You could have your child write messages on white paper in a white crayon and give out a colored crayon or two with each valentine. All the recipient has to do to discover the hidden message is to color over it with the included crayons! (If you want to get more involved, you can melt crayons in a heart-shaped cupcake pan!) As an alternative, you could include a miniature watercolor set or just a paint brush, in addition to using this printable and make your own watercolor paint heart.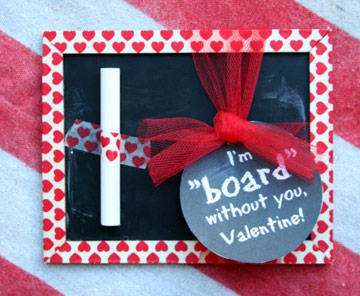 Chalkboard Art
It's not just a trend, it can be really easy to achieve! Basically any matte black surface can be made to look like a chalkboard — and almost anything can be painted to become one! Your child could create valentines that have a chalkboard-art look by using black construction paper and a white gel pen and then include spray-painted chalkboard hearts and chalk as a gift.
Another possibility is a tic-tac-toe game made from a DIY chalkboard — just throw in a piece of chalk! We also love this simple box of chalk with chalkboard paint added to the back of the box.
Whatever chalkboard project you decide on, don't forget to download these "Board Without You" free printable labels (see picture above; Copyright ©2015, Randi Dukes. All rights reserved.). Another cost-saving aspect of the chalkboard trend is that even chalkboard-look printables are budget-friendly, since you're using only black ink!
Free Printable Valentines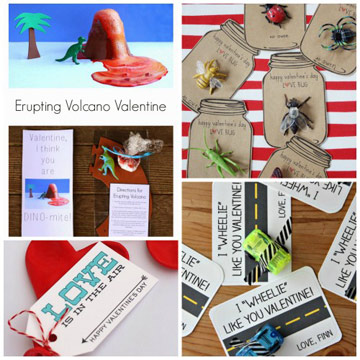 Just because you're making your own valentines doesn't mean you have to do it all yourself! You can purchase or download for free many styles of cards or tags that go with your chosen project. They'll probably work best on sticky-back paper or card stock, and if you don't have a color printer, you can send any PDF to your local office supply store print shop for a nominal fee.
From chocolates to glow sticks, bubbles to gold fish, there are plenty of cute but simple DIY printable valentines you can download for free. Check out these religious ones as well as this huge round-up (see picture on right; Copyright ©2010, I Can Teach My Child, LLC. All rights reserved.) or even these frame-worthy ones suitable for your own girlfriends or others you love.
We recommend having all the supplies organized and ready to go, along with a list of names, before you begin. Making DIY valentines doesn't have to cost a ton of money or take major craft skills, and you might even end up enjoying your time together creating with your kids.
The Bedroom Source
Located near the Roosevelt Field Mall on Long Island, The Bedroom Source is your source for the best collection of children's and teen bedroom furniture. From flexibly configurable Maxtrix furniture to fashionable Smartstuff collections, The Bedroom Source offers high end furniture and professional design assistance to create the bedroom of your child's dreams.
Contact the friendly staff at The Bedroom Source by calling (516) 248-0600 or by submitting our online contact form. We're a local family owned mom & pop store. When you shop with us, you're dealing directly with the owners. We professionally assemble everything we sell. We deliver to Nassau, Suffolk, the 5 Boroughs, Southern Westchester, Southwestern Connecticut & Northern New Jersey.