Posted on 06/09/2015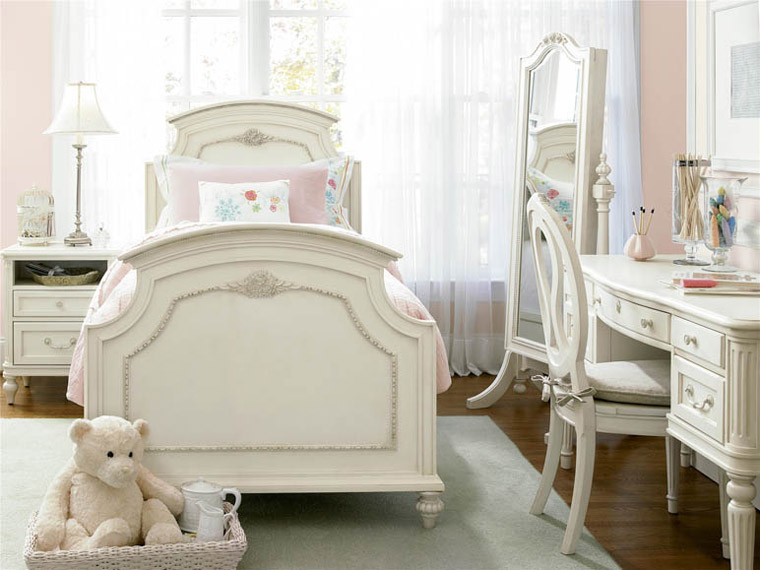 If beauty is in the details, as many artists and designers believe it is, then the Gabriella Collection is beautiful, indeed. Evoking visions of flowers and pinafores, this set is perfect for your modern beauty as she dreams up her own happily-ever-after story.
The Gabriella Look
With a lacey look and rose carvings, Gabriella offers the richness of ornate beauty. Other features include fluted pilasters, beaded accents, and painted bale-pull hardware, all contributing to the vintage feel and complementing the elegant lines. With a hint of glaze to showcase the fine lines, your princess will delight in the luster and sparkle of each perfectly formed detail.
Our favorite pieces include The Dressing Mirror, Dressing Chest, and Hutch with Desk. Additional offerings include the Vertical Mirror, Armoire, Bookcase, and Single Dresser, each designed with the scrolling elegance that evokes thoughts of "Once Upon a Time."
The Smartstuff Features
While the Gabriella Collection might have a vintage look, it's not without modern functionality. As part of the Smartstuff™ line, it's perfectly suited to today's technology as well as twenty-first century storage needs. In keeping with other collections within that line, the top drawer of the Drawer Chest has a flip-down front that's designed to house a DVD player or gaming system. It also features a hidden full-length mirror, as well as hidden accessory hooks.
Other pieces within the collection are also perfect for getting all dolled up. For instance, the Vanity Desk has a built-in electrical outlet that's perfect for any number of beauty tools. It's perfect when paired with a matching Chair with Storage Seat.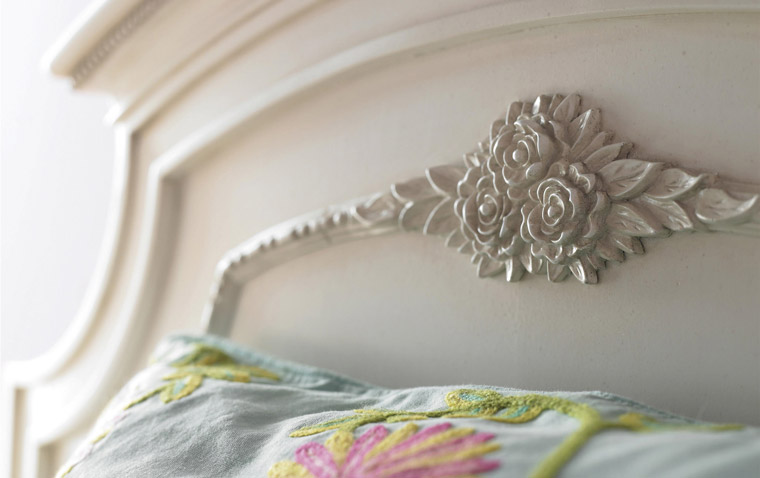 Perhaps the most dreamy piece of all is the Panel Bed, which is best accompanied by the Gabriella Nightstand, which includes built-in lighting and electrical outlets for her electronics. Alternately, you could choose the Gabriella Bunk Bed or even add the Trundle and Storage Unit for extra sleeping space or storage.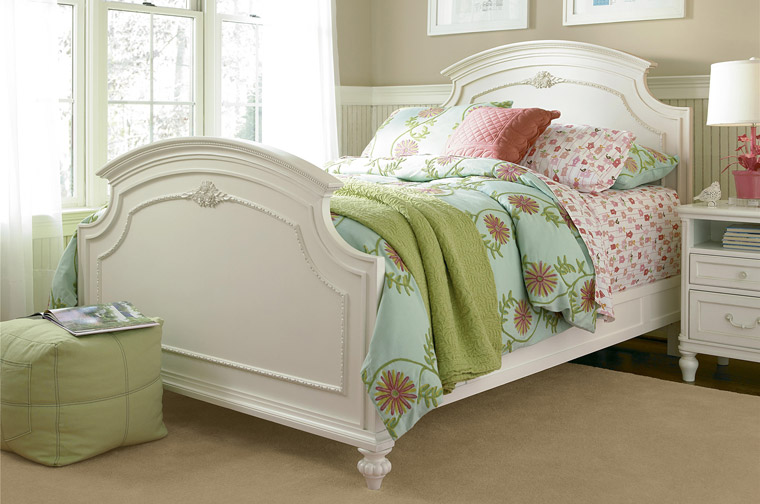 The Universal Difference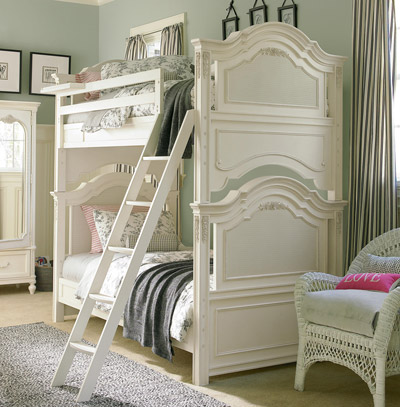 Universal Furniture has earned a name within the furniture industry that's synonymous with quality that lasts. This isn't "kids' furniture" in the sense of cheaply made stuff that's expected to last only a few short years. This is solidly constructed furniture that will stand the test of time.
With a strong slat roll made from premium plywood and built-in drawer stops, safety is a priority. With metal bolts, full-extension drawer guides, and English dovetailing, longevity is sure. Instead of having to replace a cheaply made bedroom set in a year or two, you'll be able to keep your Gabriella set as your little princess transitions into a tween diva and even a teen fashionista, or scholar, or athlete.
Whatever she becomes, we know she'll always be your little princess, with dreams of living "Happily Ever After," whatever that means to her.
The Bedroom Source
Located near the Roosevelt Field Mall on Long Island, The Bedroom Source is your source for the best collection of children's and teen bedroom furniture. From flexibly configurable Maxtrix furniture to fashionable Smartstuff collections, The Bedroom Source offers high end furniture and professional design assistance to create the bedroom of your child's dreams.
Contact the friendly staff at The Bedroom Source by calling (516) 248-0600 or by submitting our online contact form. We're a local family owned mom & pop store. When you shop with us, you're dealing directly with the owners. We professionally assemble everything we sell. We deliver to Nassau, Suffolk, the 5 Boroughs, Southern Westchester, Southwestern Connecticut & Northern New Jersey.
Smartstuff is a trademark of Universal Furniture. Learn more at smartstufffurniture.com
Image credits: Universal Furniture