Posted on 12/19/2015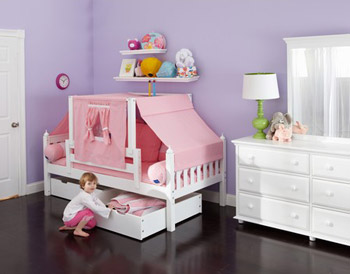 Today's parents are getting smart. Many are aware of the dangers of a pervasive materialistic, entitlement mindset fostered by modern advertising. Others are constantly purging their home of toys, for various reasons, including these biggies:
But Christmas is coming. Lists of non-toy gifts abound on parenting blogs, with ideas ranging from classes and event tickets to "coupons" for "dates" or other fun outings, even memberships to area attractions. Still, we all like the fun factor that comes with a real, tangible, enjoy-it-right-now material gift. It's really counter-productive to jam-pack already bursting storage bins and closets with more stuff, but what's a gift-loving parent to do? Maxtrix® Children's Furniture System offers a surprising answer to this dilemma.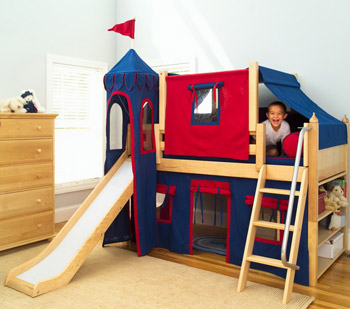 May Your Days Be Merry and Bright
Here at The Bedroom Source, we believe that children's furnishings shouldn't have to mean choosing either safety or fun. Instead, with our Maxtrix System, we combine high quality children's furniture with a touch of whimsy. Instead of the kind of play tents and activity options that easily break or become obsolete, our Under-Bed Curtains and Top Tents, Towers, and Slides can be changed out as your children grow.
Not only do our Loft Beds provide plenty of opportunity for such add-ons, they also allow for more floor space, providing plenty of extra room for active play that's harder to accommodate during snowy New York winters. As you make room for imaginative play, your child's imagination will more than make up for the lack of plastic throw-away items under the Christmas tree.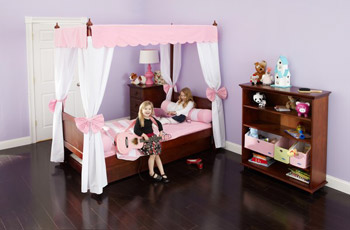 Sleep in Heavenly Peace
Maxtrix furniture is one gift you won't have to take away when it's time for bed on Christmas night. While the Maxtrix beds are more than beds, they do begin with our Basic Bed. It can be combined with other beds to provide a unique Bunk Bed configuration, or it can be lifted to a Low Loft, Mid Loft, or High Loft with our Leg Extensions using Rock-Lock connectors for safe, wobble-free support.
Our Guard Rails, Staircase or Angled Ladder options, and heavy-duty Slat Roll all provide the kind of safety that promotes peaceful sleep for your child and those who want to keep him safe. Unlike many children's beds, Maxtrix furnishings are crafted from solid natural wood, and beds are tested to support up to 800 pounds.
A Few of My Favorite Things
Your child's favorite toys will have plenty of room to play and hide in the exceptional storage components of her new Maxtrix Furniture. Our Dressers, Desks, Toy Chests, Book Shelves, and other storage pieces provide ample opportunities for organizing play pieces. They also provide options for those wishing to re-arrange furnishings: Most pieces can fit neatly under a Loft Bed or function as free-standing pieces with the addition of a Crown and Base Kit. Our Staircase Bunkbeds include extra storage in each step, which also functions as a pull-out drawer.
For a Christmas idea that will actually make sense and accommodate imaginative play, consider purchasing a Maxtrix Children's Furniture System: You won't have buyer's remorse on December 26.

From the Bedroom Source blog:
The Bedroom Source
Located near the Roosevelt Field Mall on Long Island, The Bedroom Source is your source for the best collection of children's and teen bedroom furniture. From flexibly configurable Maxtrix furniture to fashionable Smartstuff collections, The Bedroom Source offers high end furniture and professional design assistance to create the bedroom of your child's dreams.
Contact the friendly staff at The Bedroom Source by calling (516) 248-0600 or by submitting our online contact form. We're a local family owned mom & pop store. When you shop with us, you're dealing directly with the owners. We professionally assemble everything we sell. We deliver to Nassau, Suffolk, the 5 Boroughs, Southern Westchester, Southwestern Connecticut & Northern New Jersey.
Maxtrix® is a registered trademark of Maxwood Furniture.