Posted on 12/17/2015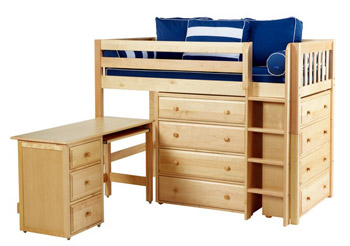 While only 3.3% of children between ages 9 and 19 are reported to struggle with Seasonal Affected Depression (SAD), many more who live in areas with cold winters experience what some call "cabin fever" or the "winter blues." The physical, psychological, and emotional benefits of regular physical activity are relevant throughout the year but are extremely important to keep in view during cold winter months when kids are often cooped up inside, day after day.
While you may not be able to get to an indoor play place every day or venture outside during inclement weather, you can maximize your indoor space to accommodate healthy play with our best selling Maxtrix® Furniture System.
A Safe and Sturdy Framework
Unlike many cheaply made children's beds, the Maxtrix Children's Furniture System is made to hold up to real kids — kids who move and play and grow into teenagers. While rough play or jumping could compromise the stability of even the best furnishings, our Basic Bed — the building block of the entire system — includes a Slat Roll that's tested to hold up to 800 pounds. (Translation: Your toddler's active play will not cause our beds to break.)
Made of solid natural wood, instead of cheaply made plywood or artificial stand-ins, you can trust your Maxtrix bed to stand the test of time. In addition, when you raise our Basic Bed into the air — to create either one of our many Bunk Bed options or a Loft Bed — you can trust our Leg Extenders, Rock-Lock Connectors, and Safety Rails to ensure optimal safety even with the added height.
Extra Space Wherever You Want It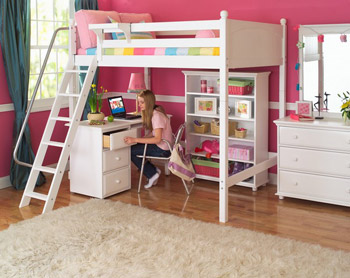 We help you save space: You decide where you want it. Here are a few ideas:
1. You can stack multiple beds into a Bunk Bed, so the rest of the room is functional during the day.
2. You can individually lift each child's bed into a Loft with individual play spaces underneath each one.
3. You can put storage furniture pieces under each bed to allow for extra shared floor space.
The best part is that once you decide, it's okay to change your mind! The same Dressers and Bookshelves designed to fit neatly under our Loft Beds can easily transition into stand-alone units with added Crown and Base Kits. Loft Beds with Under-Bed Curtains for play space can transition into study nooks or be taken apart and combined to form a unique Bunk Bed with up to 6 beds combined into a single unit, and your choice of three ways to climb it.
Maxtrix can't provide light therapy or replace Vitamin D, but we can help you fight the "winter blues" by making room for active indoor play even when you hear the dreaded words, "Snow day!"

From the Bedroom Source blog:
The Bedroom Source
Located near the Roosevelt Field Mall on Long Island, The Bedroom Source is your source for the best collection of children's and teen bedroom furniture. From flexibly configurable Maxtrix furniture to fashionable Smartstuff collections, The Bedroom Source offers high end furniture and professional design assistance to create the bedroom of your child's dreams.
Contact the friendly staff at The Bedroom Source by calling (516) 248-0600 or by submitting our online contact form. We're a local family owned mom & pop store. When you shop with us, you're dealing directly with the owners. We professionally assemble everything we sell. We deliver to Nassau, Suffolk, the 5 Boroughs, Southern Westchester, Southwestern Connecticut & Northern New Jersey.
Maxtrix® is a registered trademark of Maxwood Furniture.