Posted on 11/10/2014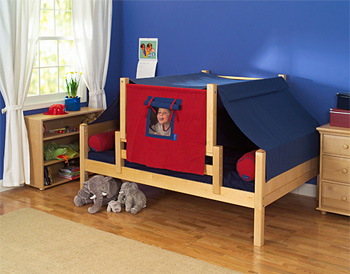 Whenever you're looking into products for your children's daily use, safety is a major consideration. The significance of that is heightened when you're considering large purchases and items your child will be using during unsupervised times, such as after going to bed.
In addition to "baby proofing" your child's bedroom by covering outlets and anchoring furniture to prevent tip-over, you can purchase furniture that is well-designed. Our best selling Maxtrix® children's furniture system is designed thoughtfully, with safety in mind.
Toddler Safety
While a typical toddler or youth-sized bed might seem like the ideal way to keep your toddler safe, Maxtrix offers a great Basic Bed that meets the safety needs of your toddler. The Basic Bed is the starting foundation block for beginning your Maxtrix collection; it is the basic bed on which you will be able to build in order to meet your child's needs for over a decade. Simply add either Guard Rails or Back & Front Safety Rails, and our Basic Bed becomes a toddler-safe sleep solution.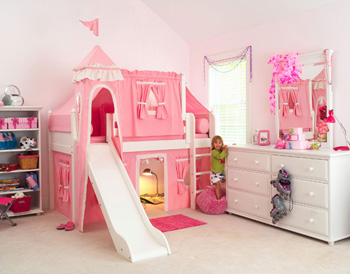 For an added fun factor, you can consider any of our Top Tents. As your child grows, you can lift this Basic Bed into a Low Loft, allowing for added play space, storage, or both. You can then consider a Curtain, Top Tent, Tower, or additional accessories. Unlike many other beds, the Maxtrix Leg Extensions provide a sturdy rock-solid Rock-Lock, allowing your little one to rest and play safely.
Bunk Bed Safety
Instead of a Loft, you could opt to transform your Basic Bed into a Bunk Bed, in order to accommodate more children or to allow for guests. Maxtrix Bunk Beds come in many shapes and sizes, ranging from L-Shaped Bunks to Low Bunks, Triple Bunks, Twin-Over-Full Bunks, and even Quad Bunks with a Staircase. Entry points provide for optimal safety.
While we do offer a Straight Ladder option, we also offer Angle Ladders with Handrails and Staircase options. In addition, we have Slide accessories that provide a safe and fun way for your child to start the day. After all, what better way is there to leave bed for breakfast than by going down a slide?!
General Safety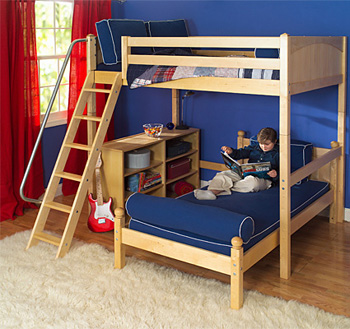 Whether you choose a Basic Bed, Loft, or Bunk Bed, the Maxtrix System offers a well-supported, slatted bed frame that sets your child up for a healthy place to sleep and play. Our bed slats are made from solid natural wood, rather than cheaply made plywood or press board. That means that, unlike typical children's furniture, which is designed to handle a child's resting weight, our beds can support your child as he or she grows into a teenager and even a young adult.
Each of the 14 slats are 3.5 inches wide. Tested for 800-pound loads, these barriers will not be easily broken by regular use from an active child. While some might think that bunky boards would be better than slats, having a solid foundation can lead to trapped moisture, compromising the health and longevity of your mattress.
In the words of Sir Topham Hatt, we believe that when considering children's bedroom furnishings, "Safety is our first concern!"
The Bedroom Source
Located near the Roosevelt Field Mall on Long Island, The Bedroom Source is your source for the best collection of children's and teen bedroom furniture. From flexibly configurable Maxtrix furniture to fashionable Smartstuff collections, The Bedroom Source offers high end furniture and professional design assistance to create the bedroom of your child's dreams.
Contact the friendly staff at The Bedroom Source by calling (516) 248-0600 or by submitting our online contact form. We're a local family owned mom & pop store. When you shop with us, you're dealing directly with the owners. We professionally assemble everything we sell. We deliver to Nassau, Suffolk, the 5 Boroughs, Southern Westchester, Southwestern Connecticut & Northern New Jersey.
Maxtrix® is a registered trademark of Maxwood Furniture.