Posted on 03/05/2015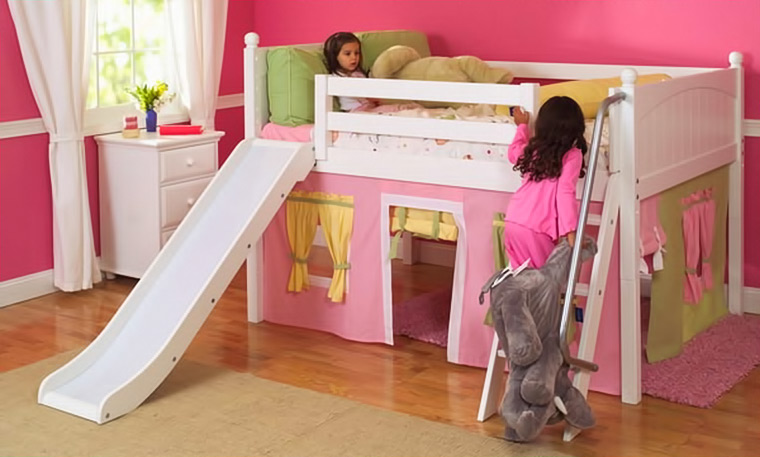 There are many things we wish we could provide for our children, but can't. There are other things we need to stop doing for them, too. They need to grow up and learn to do some things for themselves. At the same time, there are things we can do for them and should: Providing a safe place for sleep, adequate solutions for storage, and open space for play can go a long way toward allowing for healthy physical, cognitive, and emotional development. This isn't a guilt trip about buying a big house or having a big yard: Let's face it, that just might not be possible in this economy. However, you can actually create a space where all three of those aims can be achieved with a simple piece of furniture: a Maxtrix® Loft Bed.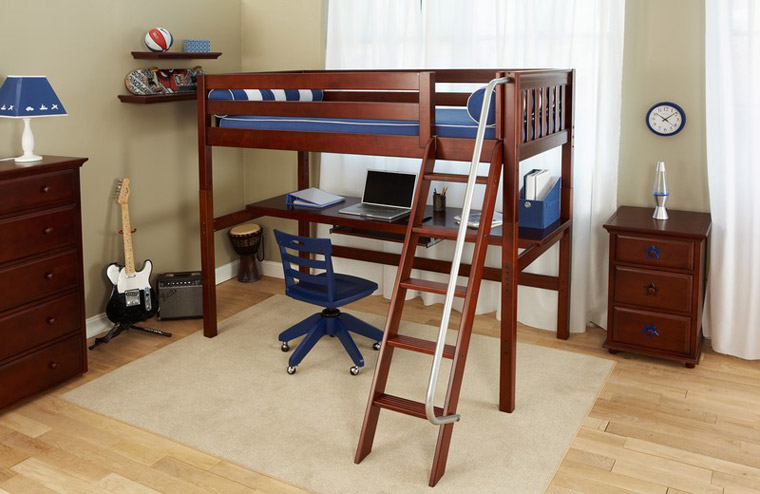 A Safe To Sleep
A Maxtrix Loft Bed, first of all, is a bed: a place for your child to sleep. Like all our furniture, it's constructed of solid natural wood. Its durable construction will stand the test of time and provide continued support as your child grows. Unlike typical slatted supports, which can safely support only a resting child's weight, ours are tested to support up to 800 pounds. When you lift our Basic Bed into a Low, Mid, or High Loft, you can be sure that our sturdy Leg Extensions can be solidly put into place via our Rock-Lock Connections that eliminate the wobbling you experience with many Loft Beds or Bunk Beds. Our Safety Rails provide the added protection needed, and our Vertical Ladder, Staircase, or Angle Ladder with Handrails can allow your child to climb into his or her bed safely.
Many Storage Solutions
As our children grow, we need to wisely help them take responsibility for their actions and their collection of "stuff." At the same time, we need to model that behavior ourselves and provide them with the tools they need to accomplish organizing tasks. Our Maxtrix Storage runs the gamut, from Dressers to Bookshelves, Under-Bed Storage to Bed-side Max Packs, we can help you provide your child with smart storage solutions for every inch of space. Even our Staircase accessories include built-in drawers to make the most of every step!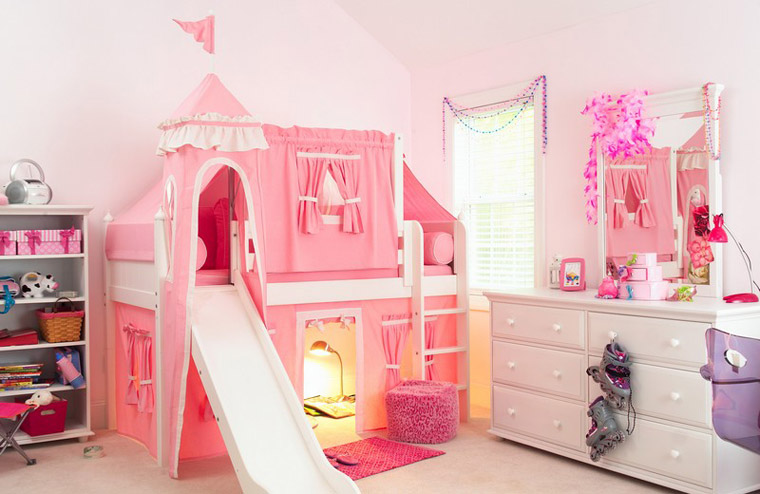 Added Play Space
Especially during harsh New York and New Jersey winters, outdoor play is limited. Of course, our children's growing bodies still need to be able to move — for both their health and their parents' sanity! With real estate prices at a premium, most of us can't afford a place with a large room devoted to active play. Instead of shrugging our shoulders, we can use Maxtrix furnishings to increase the floor space available in our homes. Creative, imaginative play can be fuelled by adding our Under-Bed Curtains, Top Tents, Towers, and even Slides. Other toys and pretend-play items can be added to enhance your child's play experience, as well. Alternatively, that under-bed space can be used for study or just hanging out. Either way, a Loft Bed creates more space, more room to think and grow.
The Bedroom Source
Located near the Roosevelt Field Mall on Long Island, The Bedroom Source is your source for the best collection of children's and teen bedroom furniture. From flexibly configurable Maxtrix furniture to fashionable Smartstuff collections, The Bedroom Source offers high end furniture and professional design assistance to create the bedroom of your child's dreams.
Contact the friendly staff at The Bedroom Source by calling (516) 248-0600 or by submitting our online contact form. We're a local family owned mom & pop store. When you shop with us, you're dealing directly with the owners. We professionally assemble everything we sell. We deliver to Nassau, Suffolk, the 5 Boroughs, Southern Westchester, Southwestern Connecticut & Northern New Jersey.
Maxtrix® is a registered trademark of Maxwood Furniture.