Posted on 11/30/2014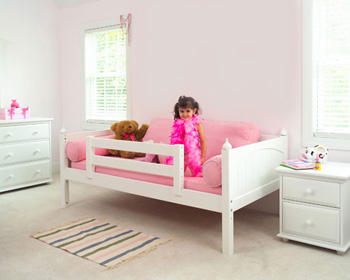 Flood-worthy pants, an abandoned doll house, and shoes with holes in them. These are some of the many issues that come up with kids who Just. Keep. Growing. Of course, we all know that's a healthy thing. But it also poses a problem: Each purchase is accompanied by uncertainty:
Should we spend hard-earned money on decent quality, when kids might outgrow something before it has a chance to show a sign of wear?
What if this size is one that he actually wears for a full year — or two?
How do you know if this phase and interest will outlast the others?
As parents, we just don't know. But when it comes to children's furniture, the Maxtrix® System has you covered: Our furniture grows (and grows up) with your kids.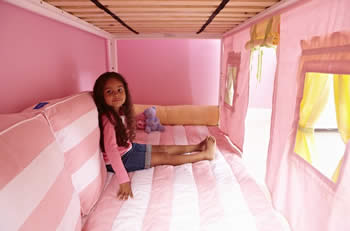 Growing from a Starting Point
Like many of your children's toy collections, there's a starter set — a must-have basic centerpiece for the new world of fantasy and play. For Maxtrix, that starting point is our Basic Bed. For young children, it can be the first bed after a crib is no longer needed. Like a typical toddler or youth bed, it provides safety features such as being low to the ground and having optional Guard Rails (or Front and Back Safety Rails).
Unlike the usual youth bed, though, our rails are higher than average, and the entire bed — including the slats — is constructed of durable solid hard wood. Each of the 14 slats is 3.5 inches wide, which work together to create a bed that is tested to hold up to 800 pounds. In addition to providing safety for your young child, our Basic Bed has all the hallmarks of a quality furniture piece that can stand the test of time — including your child's many growth spurts and developmental stages.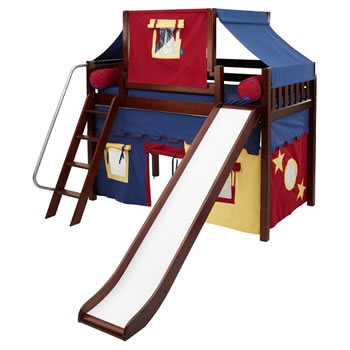 Growing Up with Your Child
Once you have the Basic Bed in place, your options are nearly endless! Using our Leg Extensions with Rock-Lock Connections, the Basic Bed can be raised into a Low, Mid, or High Loft.
Or you can combine more than one bed to create a Bunk Bed configuration of your choice, with up to 6 beds combined into a single structure.
From full Trundle Beds to Staircase and Angle Ladders with Handrails, many unique and safety-rated options can make your children's Bunk Bed a sleepover-friendly, space-efficient space.
Growing with Your Child's Needs
Of course, height isn't the only way the Maxtrix System can morph and change, according to your child's or children's needs. Other furniture pieces and accessories can provide optimal storage, as well as a multitasking set that doubles as a play space. Our vast array of Top Tents, Slides, Towers, and Under-Bed Curtains can transform your child's bed into a fort or castle, playground or picnic site.
As your child continues to grow, perhaps imaginative play will take a back seat to studying, and you'll raise the loft to make room for a matching Desk and Chair. All our storage furniture — from Storage Chests to Book Cases or Dressers — can function as stand-alone pieces or fit neatly under a Loft Bed.
The Bedroom Source
Located near the Roosevelt Field Mall on Long Island, The Bedroom Source is your source for the best collection of children's and teen bedroom furniture. From flexibly configurable Maxtrix furniture to fashionable Smartstuff collections, The Bedroom Source offers high end furniture and professional design assistance to create the bedroom of your child's dreams.
Contact the friendly staff at The Bedroom Source by calling (516) 248-0600 or by submitting our online contact form. We're a local family owned mom & pop store. When you shop with us, you're dealing directly with the owners. We professionally assemble everything we sell. We deliver to Nassau, Suffolk, the 5 Boroughs, Southern Westchester, Southwestern Connecticut & Northern New Jersey.
Maxtrix® is a registered trademark of Maxwood Furniture.