Posted on 12/14/2014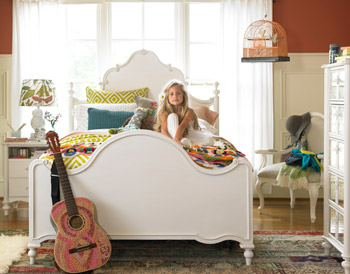 The Bellamy collection by Smartstuff™ provides unprecedented functional elegance, combining outlets for today's technology with a touch of whimsy reminiscent of fairy tales. The timeless beauty and vintage charm of this collection transcends cultural necessities and will challenge your expectations of children's furnishings. Designed specifically with your little princess in mind, the Bellamy Collection will not disappoint even the most detail-oriented royalty among us.
Graceful Lines, Dreamy Hues
The scrolling lines of Victorian days are echoed in pieces featuring intricate molding, graceful case fronts, and elegantly turned bun feet. The textured Daisy White finish combines with Accent Rose and French Grey accents (such as a reversible headboard insert) to provide a classic yet casual look that offers the hint of antiquity.
The eclectic mixture of faded colors and scrolling designs mirrors the dreamscapes of the most successful, innovative women of our time. In this day in which girls really can do anything, they can dare to embrace their feminine side with confidence.
Thoughtful Details, Traditional Quality
If beauty is in the details, then the Bellamy Collection is beautiful, indeed! Each piece has a little "extra" included, extras like an exercise guide in every chest and coasters in each nightstand, folding boards in each dresser, and a world map with every hutch.
In addition, the solid construction of each drawer showcases the thoughtful, quality design. Drawer walls are 9/16" and constructed with English dovetail details in front and back, with screwed-in back panels. The full-extension metal drawer guides allow for soft self-closing, and our drawers are tested to 50,000 cycles.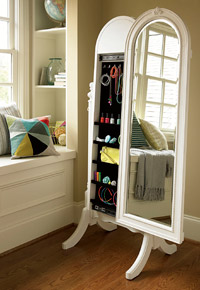 Of course, Smartstuff furniture also provides everything children's bedroom furnishings should. Safe, sturdy construction includes many features designed to reduce chances of injuries due to breaking, falling, scraping, tipping, pinching and more.
Some of the most noteworthy features include these:
• Metal bolts and pins
• Plywood slat roll foundation
• Softened corners and edges
• Anti-tip restraint hardware
• Lead-free finishes
• Small openings to eliminate risk of entrapment
• Built-in drawer stops
• Bed rails that bolt together firmly
• Wide, grooved ladder steps
• Adjustable levelers to ensure level positioning, even on uneven surfaces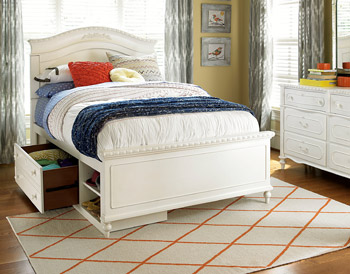 Timeless Tasks, Modern Features
From beds to dressers, night stands to desks, in many ways, the Bellamy Collection offers nothing new. But in other ways, it's simply revolutionary! Consider the Cheval Storage Mirror, which provides an elegant option for storing accessories and jewelry. The XOXO Desk includes an ergonomic guide, making it ideal for use with today's technology, and the coordinating chair includes storage space beneath the seat.
Each dresser provides uniquely for storage, with each including a flip-down drawer, hidden compartment beneath a felt-lined tray, and removable partitions in lower drawers. Nightstands have charging stations and built-in lighting, while upper bunks can benefit from removable trays that provide easy access to alarm clocks or iPods.
For sleep space or storage, Trundles and Under-Bed Storage Units provide additional options. For even more dreamy rendezvous, the Daydreamer's Day Bed or Trellis Bed seem like the perfect setting for royalty to rest.
The Bedroom Source
Located near the Roosevelt Field Mall on Long Island, The Bedroom Source is your source for the best collection of children's and teen bedroom furniture. From flexibly configurable Maxtrix furniture to fashionable Smartstuff collections, The Bedroom Source offers high end furniture and professional design assistance to create the bedroom of your child's dreams.
Contact the friendly staff at The Bedroom Source by calling (516) 248-0600 or by submitting our online contact form. We're a local family owned mom & pop store. When you shop with us, you're dealing directly with the owners. We professionally assemble everything we sell. We deliver to Nassau, Suffolk, the 5 Boroughs, Southern Westchester, Southwestern Connecticut & Northern New Jersey.
Smartstuff is a trademark of Universal Furniture.