Posted on 04/27/2015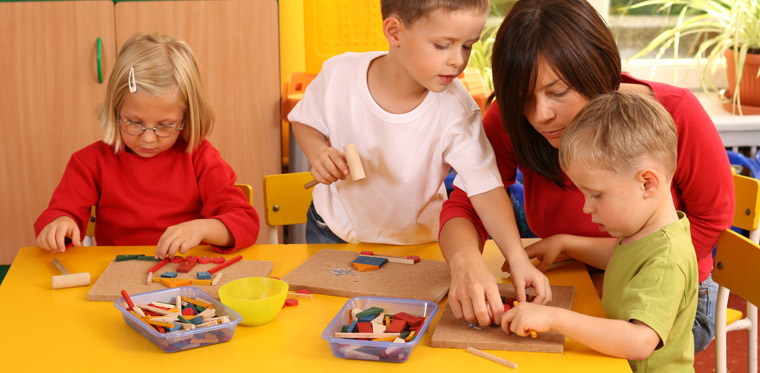 If you're like most of us, your home doesn't lack for "stuff to do." And yet your kids whine, "I'm bored." Sometimes so-called boredom is actually lack of imagination combined with being overwhelmed by too much stuff from which to choose. Instead of shouting "Go play! You have plenty of toys!", the intentional parent can create invitations to create, to play, to learn.
Starting Steps: Clean Space, Clear Mind
To create a place where creativity and imaginative play can flourish, the space needs to be free from clutter. That might mean banishing most toys to the basement or finding storage solutions that put them "out of sight, out of mind." This concept will be especially significant for your more sensitive child, or your visual learner. When kids are overburdened by external stimuli (such as too many toys or options), they can actually have a stress response.
Princeton University neuroscientists explain the phenomenon in this way: "Physical clutter overloads your senses, making you feel stressed, and impairs your ability to think creatively." Stressed kids are anxious kids, and anxious kids are more prone to melt downs. Sound familiar? Maybe clutter is to blame — or, at least, partly to blame. Sometimes less really is more.
Building Blocks: Tools for Enrichment
Are you intentional about the play things you purchase for your kids? Amid the noisy, plastic, licensed products which marketers so effectively clamor to have us buy, do you have some basic building blocks for creative, imaginative, open-ended free play?
These are the play things — maybe not officially "toys" that don't play on their own. They have no rules. From building toys and cardboard boxes to play kitchens and dress-up clothes, some major pros for parents are that the best toys for our kids are the ones that don't need batteries, don't make obnoxious noises, and don't lose kids' interest in 5 minutes — or even 5 months!
Intentional Invitations: Organization with Purpose
A clutter-free setting that isn't overwhelming, combined with tools for child-led play are great beginnings. But you can maximize their impact by intentionally rotating toys and providing targeted "invitations to play" or "invitations to create."
From daily "quiet time" bins to rotation schedules for all toys, it really is worth the effort! If your kids aren't used to electronics-free, creative play, they might balk at it, at first. But once they see you starting to play and get curious, you (and they) might be surprised.
And you might just start hearing things like, "Look what I made!" instead of "I'm bored." Or, maybe better yet, your kids will be so engrossed that you won't hear anything at all.
The Bedroom Source
Located near the Roosevelt Field Mall on Long Island, The Bedroom Source is your source for the best collection of children's and teen bedroom furniture. From flexibly configurable Maxtrix furniture to fashionable Smartstuff collections, The Bedroom Source offers high end furniture and professional design assistance to create the bedroom of your child's dreams.
Contact the friendly staff at The Bedroom Source by calling (516) 248-0600 or by submitting our online contact form. We're a local family owned mom & pop store. When you shop with us, you're dealing directly with the owners. We professionally assemble everything we sell. We deliver to Nassau, Suffolk, the 5 Boroughs, Southern Westchester, Southwestern Connecticut & Northern New Jersey.