Posted on 11/17/2014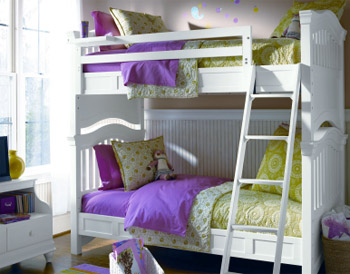 In today's technological world, kids become "plugged in" from a young age, whether learning word processing skills in computer class, playing games on a tablet, or talking on a cell phone. They are part of a lifestyle in which technology is front and center and life launches into busy schedules early on.
In the midst of this lifestyle in which kids are always learning technology and always on the go, the Smartstuff Classics 4.0 bedroom collection by Universal Furniture provides the perfect setting to have a home base.
Smartstuff™ elements included in various pieces of furniture add to both education and practicality for kids in their bedrooms. Lighting is built into beds, and items such as star charts with bunk beds and world maps with hutches help with reinforcing learning about the world around your children. An exercise guide in each chest encourages a healthy, active lifestyle.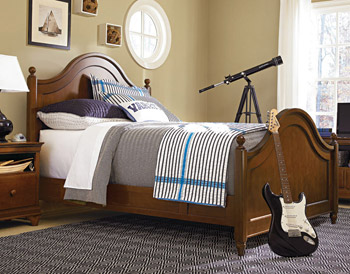 Dressers include shirt folding boards to help keep clothes stored neatly, while drawers have removable partitions to organize smaller items like socks and underwear. To keep diaries or money collections tucked away from younger siblings, a secret compartment in each dresser allows for private storage.
Within the Classics 4.0 collection, furniture options are offered in Summer White or Saddle Brown finishes. A variety of customizable beds exist to choose from in either finish.
Classics 4.0 Bunk Bed
The Classics 4.0 Bunk Bed is available in a variety of sizes to fit your bedroom; you can choose two twins, two fulls, or twin over full. To ensure safety while climbing in and out of the bed, ladder steps include a grooved finish and are curved. Metal pins connect the beds, also allowing you to easily take the unit apart to use as two separate beds. Additional shelf space on top allows room for a clock and other small items.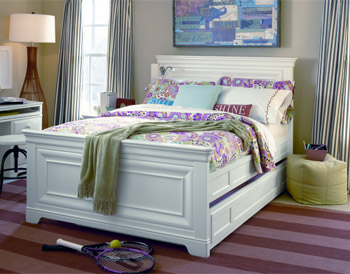 If you need additional storage, you can choose to include a rolling trundle or drawer unit underneath the bed. The drawer unit also includes small shelves on each side.
Classics 4.0 Low Post Bed
Offered in either twin or full sizes, the Classics 4.0 Low Post Bed can be set up for mattress and box spring or have the side rail raised to allow for just a mattress on slats. Underneath, you can choose to include a rolling trundle or a large drawer with shelves beside. Even with its low setting, this bed does not sacrifice storage space.
Classics 4.0 Panel Bed
Available in full or twin sizes, the Classics 4.0 Panel Bed also includes the option of a storage drawer or trundle underneath. For late night reading sessions, flip on an LED lamp positioned in the left headboard post. If you already have a basic metal bed frame along with a boxspring and mattress, you can buy just the headboard to add the stylish wooden look to your home.
Classics 4.0 Sleigh Bead
Gracefully balanced on four posts, the Classics 4.0 Sleigh Bed shows the curves of the "sleigh" that give it its name. Available as either a full or twin bed, it can also include a trundle unit or large drawer underneath. Read sitting up or sleep lying down in style on this bed.
The Smartstuff Classics 4.0 Collection offers a variety of beds to fit your child's room. Browse our site and the Classics 4.0 catalog to see more details.
The Bedroom Source
Located near the Roosevelt Field Mall on Long Island, The Bedroom Source is your source for the best collection of children's and teen bedroom furniture. From flexibly configurable Maxtrix furniture to fashionable Smartstuff collections, The Bedroom Source offers high end furniture and professional design assistance to create the bedroom of your child's dreams.
Contact the friendly staff at The Bedroom Source by calling (516) 248-0600 or by submitting our online contact form. We're a local family owned mom & pop store. When you shop with us, you're dealing directly with the owners. We professionally assemble everything we sell. We deliver to Nassau, Suffolk, the 5 Boroughs, Southern Westchester, Southwestern Connecticut & Northern New Jersey.