Posted on 04/05/2015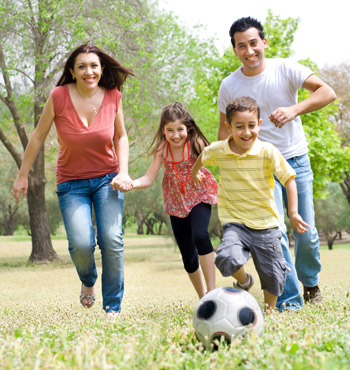 Being intentional about family relationships can reap rewards both academically and otherwise, for both you and your children. While there is no replacement for regular, routine times for building relationships (as we discussed in Part 1), parents can also be creative about orchestrating an environment and special activities and occasions that intentionally celebrate and anticipate relational closeness — one of the most significant factors in a child's academic success.
Environmental Factors
From furniture to décor, wall colors to photography, your home both reflects and influences your personality and values. Just as purchasing quality furniture can communicate a sense of value you place on your home environment, displaying photos of family and friends on walls or keeping photo books visible communicates that you value those people. In addition, your environment can both reflect and help influence your family's emotions. There have been many studies about the effect of color on mood, but perhaps even more significant is the potential negative effects of clutter.
Team-Building Activities
Yes, I know we're talking about family, here, but every healthy family can fit the following definitions of a team:
• More than a group of people
• A collective of individuals who all contribute to the working of the whole
• A group of individuals organized to work together to accomplish a specific objective
Many companies and sports teams benefit from team-building opportunities, and community-service opportunities, and families can, too. Often, our families lack unity because they lack purpose. Is the goal merely to get through each day, keep the house in repair, and keep from hurting each other in the process? Certainly, each member of your family has his or her own interests and responsibilities. But what do you do together? Can you each curtail your usual extracurricular activities each spring to pursue a new interest or serve your community as a family? When you start to foster a team spirit, trust and open communication are strengthened and greater value is achieved.
Special Occasions
Holidays, birthdays, and other special occasions and milestones can easily fly by, even in Pinterest-perfect style, without truly celebrating what's important or nurturing the family relationships that we highly value. When we pursue activities with purpose and keep the priority of family relationships in view, it will help us structure those activities in meaningful ways. What traditions can you use to help holidays contribute to your family values? Can you schedule individual one-on-one outings on a rotating basis, so that each parent-child pair within your family has an opportunity to develop an individual relationship? What about an annual trip that provides opportunities to plan and anticipate together and look back on with fond memories?
Environmental factors, team-building activities, and special occasions can all work together to help you achieve the family atmosphere and values that you desire. When you are more intentional about all these facets of family life, your children — and their grades — will be sure to benefit.
The Bedroom Source
Located near the Roosevelt Field Mall on Long Island, The Bedroom Source is your source for the best collection of children's and teen bedroom furniture. From flexibly configurable Maxtrix furniture to fashionable Smartstuff collections, The Bedroom Source offers high end furniture and professional design assistance to create the bedroom of your child's dreams.
Contact the friendly staff at The Bedroom Source by calling (516) 248-0600 or by submitting our online contact form. We're a local family owned mom & pop store. When you shop with us, you're dealing directly with the owners. We professionally assemble everything we sell. We deliver to Nassau, Suffolk, the 5 Boroughs, Southern Westchester, Southwestern Connecticut & Northern New Jersey.