Posted on 12/07/2014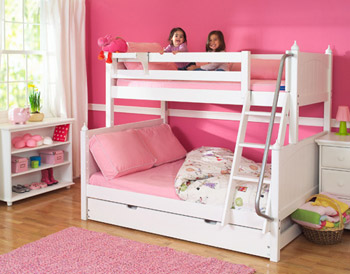 "Please, Mom, five more minutes?"
"Just one more chapter?"
"But I'm not tired!"
Bedtime can be rough on both kids and adults. Except, perhaps, on Christmas Eve - that special night where kids know that the sooner they go to sleep, the sooner they get their Christmas gifts! Oh, and there's another potential headache for parents: Christmas shopping with the crazy traffic and frantic customers.
Here's an angle on Christmas gifts you may not have considered - getting your children a new bed or bedroom set. "Ouch," you may say, "That's almost as bad as getting socks!" However, consider Maxtrix®. Your child will always need a bed, and this bed will make bedtime a thrill! From castles to tents, from slides to stairs, you can find the perfect combination that will make Christmas morning fantastic for your child.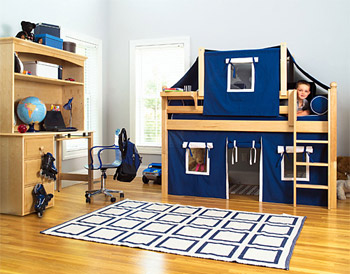 Novelty
Many beds from Maxtrix® are exciting, merely because of their novelty. Kids find bunk beds exciting; it's almost like camping! Maxtrix provides a variety of bunk beds. There's the traditional bunk bed, with an upright or slanted ladder (safety railing included!); these bunk beds come in three different heights: low, medium, or high. There are even options for L-shaped or parallel bunks, if you prefer a different style.
Bunk beds can come in a surprising variety. The staircase bunks are unique and make getting to the top bunk easier. Perhaps a challenge for getting your children to sleep, but definitely fun, are the bunk beds with a slide! (No worries on safety; Maxtrix meets or exceeds safety standards in the United States and Europe.) If your children need more space, Maxtrix also offers a twin/full bunk bed combination. If you need more than two beds, you can get triple and quad bunks. The triple bunks can come in a stack of three or in a traditional bunk with an extra loft bed attached. The quad bunk contains two bunk beds side by side with a staircase in the middle. A quad corner bunk is coming soon!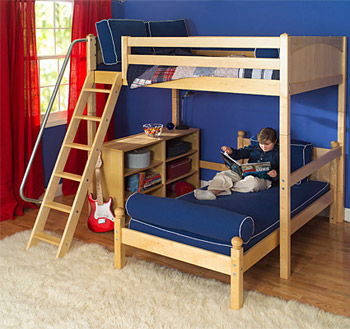 Maxtrix also offers other fun options for beds. You can get a trundle bed to go with a single or bunk bed. A trundle bed may seem like a simple space saver for parents, but for kids, it's an exciting adventure! There's also the poster bed with a canopy - and what little girl hasn't dreamed about sleeping under a beautify canopy?
Playhouse
Even if you don't need bunk beds, the bottom bunk presents of myriad of possibilities for a playhouse, and the accessories make it even better. They come in a variety of colors for boys and girls. You could get underbed curtains, including curtains for a castle, a house, or a fort! These curtains include windows with miniature window coverings or curtains of their own. For a single bed, daybed, or top bunk, you could include a top tent with a window. The highlight of the castle accessories is the castle tower, complete with windows and pennant, that fits over the slide on a bunk bed.
So maybe this Christmas could be a little different - with easier Christmas shopping and a purchase that benefits both you and your children - an amazing adventure for them and an easier bedtime for you.
The Bedroom Source
Located near the Roosevelt Field Mall on Long Island, The Bedroom Source is your source for the best collection of children's and teen bedroom furniture. From flexibly configurable Maxtrix furniture to fashionable Smartstuff collections, The Bedroom Source offers high end furniture and professional design assistance to create the bedroom of your child's dreams.
Contact the friendly staff at The Bedroom Source by calling (516) 248-0600 or by submitting our online contact form. We're a local family owned mom & pop store. When you shop with us, you're dealing directly with the owners. We professionally assemble everything we sell. We deliver to Nassau, Suffolk, the 5 Boroughs, Southern Westchester, Southwestern Connecticut & Northern New Jersey.
Maxtrix® is a registered trademark of Maxwood Furniture.