Posted on 03/22/2016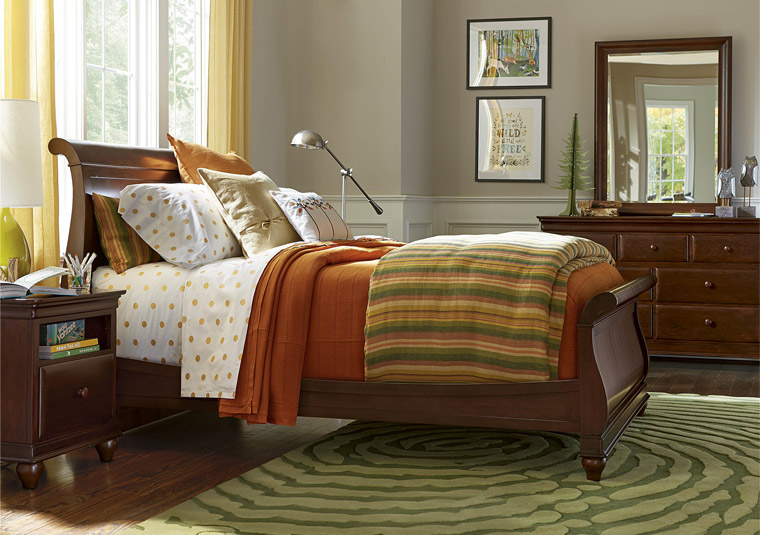 Dressers and Drawer Chests are both intended primarily for clothing storage, so how do you choose which one would best serve your child? Here are a few thoughts to consider, based on the differences between the two.
Height and Width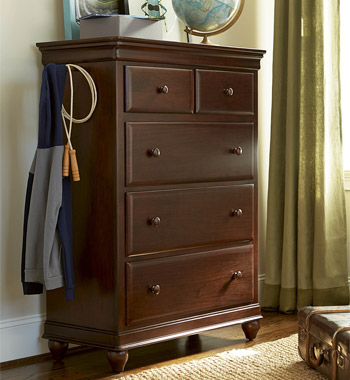 Okay, so this is the most obvious difference, isn't it? The Drawer Chest is typically higher, whereas the Dresser is wider. (In the case of the Classics 4.0 Collection, the Dresser measures 56W x 18D x 36H, and the Drawer Chest is 40W x 18D x 52H.)
You'll want to carefully consider your child's bedroom — and particularly the available wall space, considering the other furniture pieces you'll be buying. For instance, if you're planning to go with a Day Bed or Bunk Bed, the bed is typically positioned with the long end against the wall, leaving less wall space available than a typical Twin-sized Bed that takes up only the width of its headboard in wall space.
Other Storage Pieces or Places
A big part of the decision hinges on how much storage space you need in a Dresser or Drawer Chest. For instance, if you're choosing a Storage Bed such as our Classics 4.0 Cherry Panel Bed with Underbed Storage Drawers and have a spacious closet, you may not need much drawer space, at all. In that case, you can go smaller with this Single Dresser, which measures 45W x 18D x 36H. While it's the same height as the regular Dresser, its width is closer to that of the Drawer Chest.
Collection-Specific Features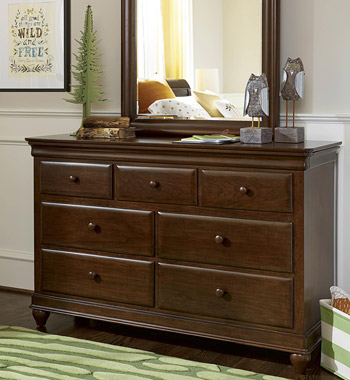 An additional consideration in choosing a Dresser or Drawer Chest is the added features. Typically, dressers offer vanity space for getting ready, as well as a mirror. However, not all dressers are created equal. For instance, the Isabella Door Dresser includes an optional Hutch with Drawers, instead. If wall space is at a premium and your child has plenty of bathroom space for getting ready, that piece might be a great fit.
By contrast, the Gabriella Collection includes a free-standing Cheval Storage Mirror as well as a Dressing Table with Mirror, so you could probably get by with a Drawer Chest instead of a Dresser with Mirror.
Combination Pieces
Many Loft Beds can combine beds and storage pieces in the same space. If you think you may want to try that kind of option for a while but don't want to lose your freedom to use each piece on its own later, our Maxtrix® Furniture System offers the best of both worlds, offering optional Crown Molding and Base Kits with Dressers, Drawer Chests and other storage pieces.
There's no right or wrong answer when it comes to the storage pieces you choose for your child's room. It's completely up to you: The trick is finding out which style is the best fit for you and your child.
At The Bedroom Source, our staff will gladly help determine what furniture configurations will work well in your child's bedroom. Just bring your complete bedroom dimensions into the store, select the furniture collection(s) you like, and we'll get to work.

From the Bedroom Source blog:
The Bedroom Source
Located near the Roosevelt Field Mall on Long Island, The Bedroom Source is your source for the best collection of children's and teen bedroom furniture. From flexibly configurable Maxtrix furniture to fashionable Smartstuff collections, The Bedroom Source offers high end furniture and professional design assistance to create the bedroom of your child's dreams.
Contact the friendly staff at The Bedroom Source by calling (516) 248-0600 or by submitting our online contact form. We're a local family owned mom & pop store. When you shop with us, you're dealing directly with the owners. We professionally assemble everything we sell. We deliver to Nassau, Suffolk, the 5 Boroughs, Southern Westchester, Southwestern Connecticut & Northern New Jersey.