Posted on 01/20/2016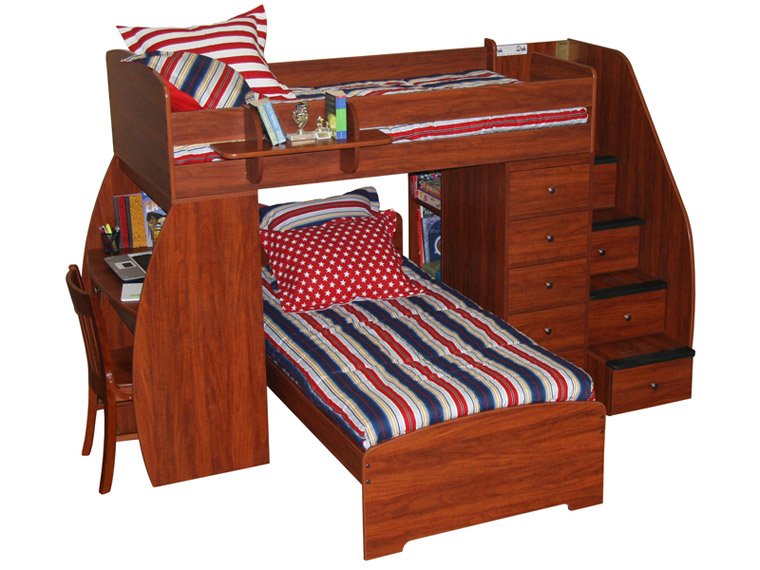 So much of what your child's bedroom needs is determined by how you plan to use the room. For instance, if your child absolutely always studies in your home office or at the kitchen table, you may not need a desk, and if you have only one child who never, ever has friends spend the night, you really don't need a Bunk Bed.
But let's change our language just a bit: Instead of asking what your child needs, let's ask what will serve him or her well, or best. After all, that's what we're all after, isn't it?
What Works Best for My Child's Clothes?
Just like clothes, clothing storage is no one-size-fits-all deal. Some kids really hate hanging up clothes. They just won't do it, so anything you intend to be hung up just ends up in a puddle on the closet floor. Others despise having the inevitable creases that come with having clothing folded in drawers.
Perhaps your child wears school uniforms that must always be pressed and hanging in the closet, 5 days out of the week. Maybe your son collects bulky hoodies or sweaters, Or your daughter is a jeans-and-T-shirt girl, all year round, and wears the same favorite fleece over top of it. As you evaluate your child's personal clothing storage needs, you'll probably come up with some answers.
What Works Best for My Child's Study Time?
Perhaps your child never studies in his bedroom because he doesn't have a desk — or at least not a desk with enough space to spread out his school work the way he likes to do. In that case, this smaller Study Desk may not work well, but this longer version just might!
Maybe your daughter prefers to study in her closet because she doesn't like to be distracted — but you'd rather provide her a space with better lighting, like this Space Organizer (which comes with 5 different color finish options). If your child prefers to sit on the sofa to do homework, why not provide a Futon Bunk Bed.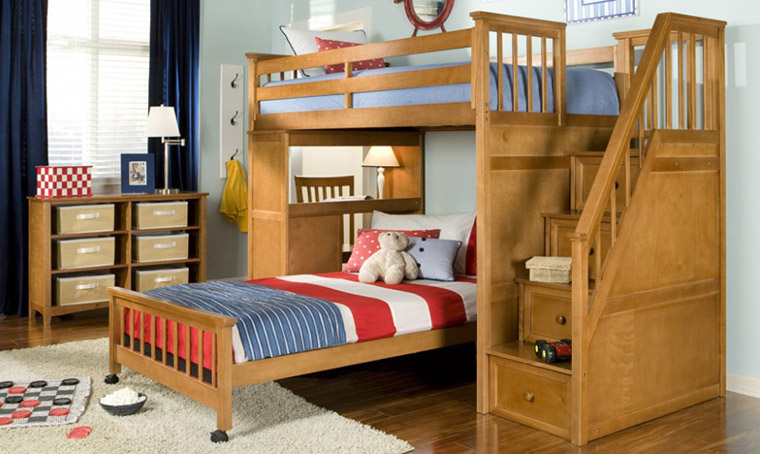 What Works Best for My Child's Sleep Needs?
Whether your child wants to rise above the world — and any bedroom clutter — in a Loft or Bunk Bed or needs the space to stretch out into a Full Bed, we can help you evaluate the style of Bed that best suits his or her needs.
If he tends to wake up at night, fearfully reaching for a light, our well-crafted Smartstuff™ Collection Nightstands with built-in touch lighting may be the perfect option. If she needs to sleep on a top bunk but also tends to get out of bed at night frequently, you'd probably do well to choose one with an Angled Ladder and Rail or Staircase Bunk Bed.

From the Bedroom Source blog:
The Bedroom Source
Located near the Roosevelt Field Mall on Long Island, The Bedroom Source is your source for the best collection of children's and teen bedroom furniture. From flexibly configurable Maxtrix furniture to fashionable Smartstuff collections, The Bedroom Source offers high end furniture and professional design assistance to create the bedroom of your child's dreams.
Contact the friendly staff at The Bedroom Source by calling (516) 248-0600 or by submitting our online contact form. We're a local family owned mom & pop store. When you shop with us, you're dealing directly with the owners. We professionally assemble everything we sell. We deliver to Nassau, Suffolk, the 5 Boroughs, Southern Westchester, Southwestern Connecticut & Northern New Jersey.