Posted on 12/07/2015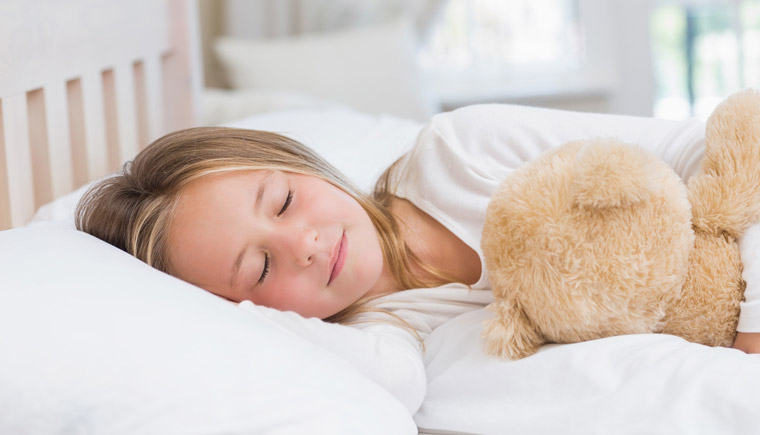 While there are probably dozens (hundreds?) of bells and whistles your kids might think they need in their bedrooms, there are only a few they really need in order to get a good night's sleep. And here's a hint: they don't include bells or whistles, or anything loud, for that matter.
Visual Stillness
I know, I know: Kids like all things bright and shiny. And with cartoon characters. And . . . you get the idea. All that visual "noise" can subconsciously create anxiety or excitement — both of which inhibit preparing for and settling into a good night's sleep. Even if your child's room décor isn't loud and obnoxious, toys or clothing strewn about the room can lessen a room's ability to appear calm.
In addition to including a time to de-clutter as part of the bedtime routine, you can increase the calm appearance of your child's bedroom by purchasing furniture with enough storage space to allow things to be well-organized. Our Study Lofts help make sure books are out of sight when it's time for bed, and this Classic Wardrobe (white or black) keeps bookshelf items behind closed doors, allowing for a neat-and-tidy appearance.
Physical Safety
Your child may not wonder whether her mattress is free from allergens or if the bedframe is solid enough to hold her weight, but if it isn't? Her sleep will probably suffer. By providing your child with the kind of quality children's furnishings you can find at The Bedroom Source, you will be ensuring that your child gets the healthiest night's sleep possible. We also carry furniture that includes built-in cord management systems to make sure your child's devices don't pose a safety hazard in case she needs to get up in the night.
Reasonably Quiet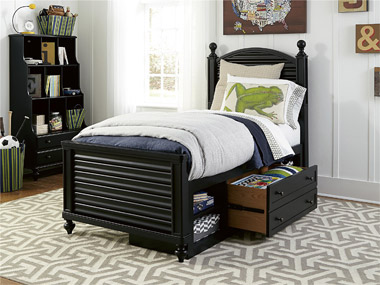 Of course, complete quiet may be impossible to achieve, depending on where you live. Loud, jarring sounds can, of course, keep a person awake or cause a person to awaken in "emergency mode," with the adrenaline rush making it difficult to get back to sleep. Your child may easily grow accustomed to the steady stream of traffic or even the swishing of a dishwasher or constant mumbling of the neighbor's TV. If your child still struggles to get a good night's sleep, a white noise machine (or an alternative like a humidifier or fan) can make other noises less likely to inhibit sleep.
Other aspects of the sleep environment are also important — such as a cool temperature and relative darkness. Did you know that the right furniture can even help with that? Our Smartstuff Collection, for instance, includes night stands that come with built-in touch lighting, reducing the need for night lights. If you think we've thought of everything, we hope you'll visit our Long Island showroom so we can show you more, in person.
From the Bedroom Source blog:

The Bedroom Source
Located near the Roosevelt Field Mall on Long Island, The Bedroom Source is your source for the best collection of children's and teen bedroom furniture. From flexibly configurable Maxtrix furniture to fashionable Smartstuff collections, The Bedroom Source offers high end furniture and professional design assistance to create the bedroom of your child's dreams.
Contact the friendly staff at The Bedroom Source by calling (516) 248-0600 or by submitting our online contact form. We're a local family owned mom & pop store. When you shop with us, you're dealing directly with the owners. We professionally assemble everything we sell. We deliver to Nassau, Suffolk, the 5 Boroughs, Southern Westchester, Southwestern Connecticut & Northern New Jersey.
Image credits: Top photo © WavebreakMediaMicro/Fotolia