Posted on 11/11/2014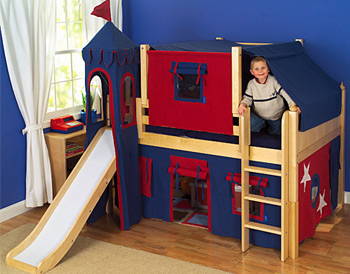 A child's bedroom is their fortress, their retreat and their haven. At the same time, the child's imagination is their limit, and we know with some children, there really is no limit to their imagination! It only makes sense to invest in long lasting bedroom furniture that will compliment and further their imaginative play and dreams and yet, at the same time, grow with them as their needs change.
One of the keys to providing such a room, where a kid's imagination can abound and which can simultaneously meet all a child's needs, is to make good use of the space available. What better way to accomplish this than to build up and give the furniture dual purposes.
The Maxtrix® furniture line at The Bedroom Source offers fantastic options for using space to the best advantage while also offering durability and lovely designs. Maxtrix loft beds in particular offer a wide variety of options for both storage and play in a child's room.
The Maxtrix Storage Loft combines the bed and dresser all into one compact furniture unit. With the dresser drawers stored below the bed, this storage bed presents a wonderfully sturdy structure so a child can sleep on the loft bed above the drawers. This option is available in two different heights, depending on the drawer needs and the space available in the room. By combining two necessary pieces of bedroom furniture, a small room can become more spacious and a larger room can afford more floor space for that sprawling train track or extensive Lego village!
Another combination is the Maxtrix Study Loft. This option combines a loft bed with a desk and three drawers under the bed where an older child can comfortably sit to complete homework or craft projects. This combination is available with either a 52" or 58" clearance under the bed, allowing accommodation for varying ceiling heights and child sizes alike.
Should another member be added to the family in the future, a lower bunk can easily be added below the loft bed, converting it into a bunk bed. Of course, that extra bunk can also come in handy for a friend spending the night.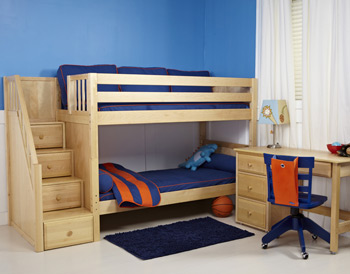 Naturally, with a loft bed, you have to consider how your child will access the loft bunk, no matter which design is chosen for the bed. Maxtrix offers stairs (each stair doubles as a functional drawer), straight ladders and angled ladders with a number of the loft bed combinations; once again, these access options help utilize space efficiently while serving the needs of the child as well as giving comfort to the parents through the rock solid safe designs.
Maxtrix loft beds are not just centered around combining essential pieces of bedroom furniture. There are multiple options for also providing a safe, fun, imaginative play area. With the option of having a slide that goes from the loft bed all the way to the floor or adding on one of multiple fun tent coverings for both over and under the bed, the creative play options seem endless. Whether your child wants a princess' palace or a knight's fortress, Maxtrix offers a wide range of accessories to help you create the perfect wonderland.
The Maxtrix Loft Beds grow with a child, offering a playland when they are small and then extra storage or a study area for an older child. With matching Chests of Drawers and Nightstands, this is the ultimate bedroom furniture resource.
The Bedroom Source
Located near the Roosevelt Field Mall on Long Island, The Bedroom Source is your source for the best collection of children's and teen bedroom furniture. From flexibly configurable Maxtrix furniture to fashionable Smartstuff collections, The Bedroom Source offers high end furniture and professional design assistance to create the bedroom of your child's dreams.
Contact the friendly staff at The Bedroom Source by calling (516) 248-0600 or by submitting our online contact form. We're a local family owned mom & pop store. When you shop with us, you're dealing directly with the owners. We professionally assemble everything we sell. We deliver to Nassau, Suffolk, the 5 Boroughs, Southern Westchester, Southwestern Connecticut & Northern New Jersey.
Maxtrix® is a registered trademark of Maxwood Furniture.