Posted on 11/07/2015
The only problem with investing in quality furniture for a young child's room is that your child will quickly outgrow that furniture. A bed that fits a three-year-old won't fit a six-year-old so well. Eventually, you may have another child and need to make room for another bed. To solve these concerns, the Bedroom Source's Maxtrix® system allows your child's furniture to change as he or she grows.
Constructed from prime grade hardwood, the Maxtrix® system starts with a simple bed that can adjust in height and length as well as connect to endless accessories, including slides, dressers, and desks. Once you purchase a bed, you can continue to add accessories as your child grows and needs change. Let's take a look at a few possible configurations.
Daybeds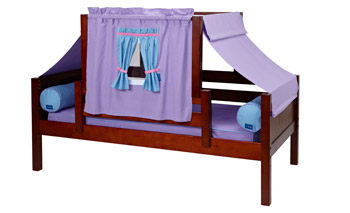 When your toddler is ready to make the jump from a crib to a regular bed, a daybed can serve your needs handily. Safety rails on Maxtrix® beds measure 17", among the highest available from any manufacturer, ensuring your child will stay secure in bed.
Available features include a trundle or drawers for under-bed storage and additional sleeping space. During the daytime, a tent option, with variations for both boys and girls, can turn the bed into a playhouse for a fun adventure.
Loft Beds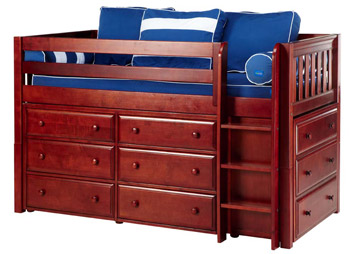 When you're ready to extend the size of your bed a bit, you can use leg extensions of varying heights to raise your bed into a loft bed.
Fabrics made to fit perfectly allow the creation of a playhouse under the bed, with a slide from the top portion for a complete playground in the bedroom. A ladder allows for easy access to the bed, whether it's time to sleep or play.
You can even turn a loft bed into a fully decorated castle, complete with a flag flying on top to establish a miniature kingdom in the bedroom.
Storage Beds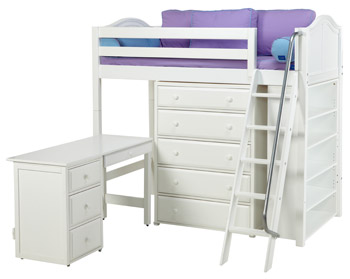 As your child continues to grow and accumulates more clothing, toys, and other items, you need to allot room for drawers to store these things away. Especially if the bedroom has limited space, what better way to create storage than to add drawers under a bed?
Choose from multiple drawer configurations to add a dresser underneath your bed, with setups built to perfectly fit varying height levels. You can even add a bookcase or a pull-out desk to create the perfect setup for homework and studying.
Bunk Beds
When you need to sleep more than one child in a bedroom, add a second bunk to an existing bed, ensuring safety with our "Rock Lock"™ connection bolt that can be trusted to hold up the bed for years. Our high safety rails keep your child secure in the top bunk, and grooved ladder steps prevent falling when climbing up to the top.
Staircase Beds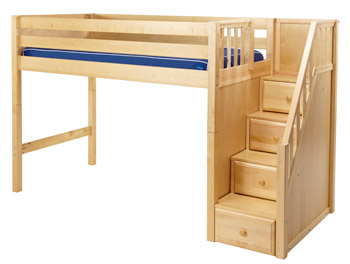 Available for low, medium, and high loft beds, as well as low and high bunk beds, staircase units can attach to create an extra safe way to climb into bed, as well as allowing additional storage via drawers in the stairs. The staircase can connect to either side of an existing bed, with the option of adding curtains and other accessories.
As you can see, the Maxtrix® system offers incredible versatility to adapt your child's room as he or she goes through various life stages. Consider investing in a bed that can grow with your child.
From The Bedroom Source Blog
The Bedroom Source
Located near the Roosevelt Field Mall on Long Island, The Bedroom Source is your source for the best collection of children's and teen bedroom furniture. From flexibly configurable Maxtrix furniture to fashionable Smartstuff collections, The Bedroom Source offers high end furniture and professional design assistance to create the bedroom of your child's dreams.
Contact the friendly staff at The Bedroom Source by calling (516) 248-0600 or by submitting our online contact form. We're a local family owned mom & pop store. When you shop with us, you're dealing directly with the owners. We professionally assemble everything we sell. We deliver to Nassau, Suffolk, the 5 Boroughs, Southern Westchester, Southwestern Connecticut & Northern New Jersey.
View Our Maxtrix Furniture Catalog