Posted on 11/20/2015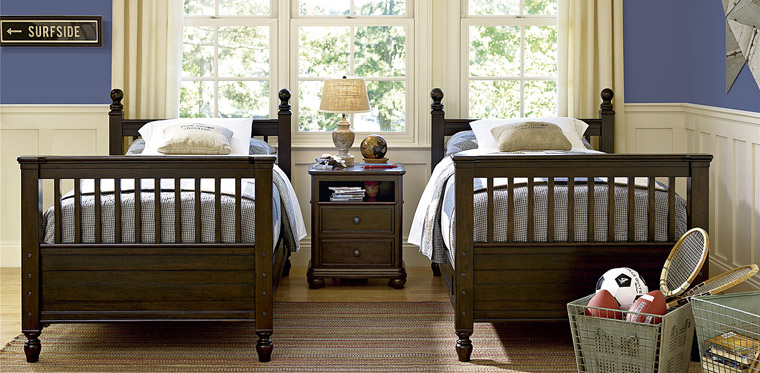 If you had two rooms for your two kids, maybe it would be easier to decide whether to have them share a bedroom or to have one room designated for sleep and the other for play, entertainment, and study. But you just have one room — so you're stuck, right? Mass chaos and frustration is your only option — or is it? Here at The Bedroom Source we'd love to show you how you can achieve your goals and create functional spaces, even if you do have more kids than rooms. We'll look at a few possibilities today, but feel free to visit our showroom and look at some of these excellent furniture options in person.
Option 1: Study Section, Sleeping Section
One way to organize a shared room is to have one section designated for sleep and the other section set for studying — or entertaining, creative play, etc., according to your children's current ages and needs. Of course, the easiest way to allow more than one child to sleep in a condensed space is by purchasing a bunk bed. Many of our bunk beds are actually comprised of two stand-alone beds, so if you decide to rearrange the room to allow each child to have his or her own section, you don't have to purchase new beds.
Our most accommodating bed is our Maxtrix system, which can magically convert from a toddler bed to a bunk bed, loft, etc. This option might be especially ideal for children who are close in age and who like being together as much as possible.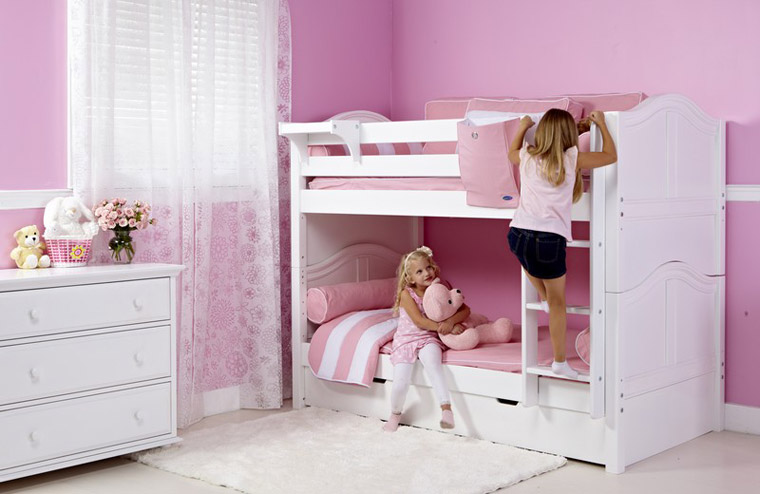 Option 2: Separate Sections for Each Child
For those children who are in distinct age categories or different genders, separate sleep and study space for each may be best. Even same-aged kids can benefit from having their own space, especially if they're introverted and require alone time to recharge. (There are other ways to accommodate that need too, though. We'll consider that a little later.)
One way to accomplish this is with Loft Beds. Similar to Bunk Beds, Loft Beds maximize floor space by positioning a bed above something else; unlike Bunk Beds, though, that "something else" isn't another bed. But instead, it can be a desk, dresser, or extra space to play. (The Maxtrix system offers accessories ideal for creating an under-bed tent, for instance.)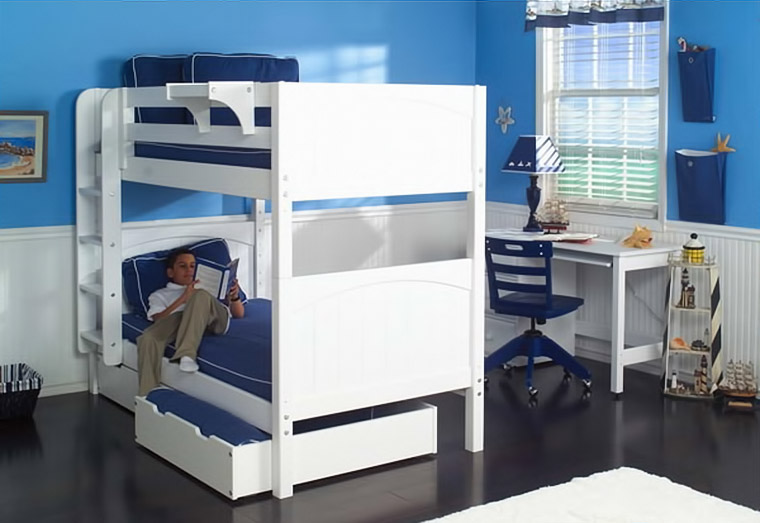 If space is really at a premium, you could take a look at this Convertible Loft Bed which has a desk that can be converted into sleep space. One child could utilize the built-in desk while the other uses a smaller, stand-alone desk on the other side of the partial wall created by the Loft Bed.
Whichever way you decide to separate your children's room, Japanese-inspired shoji screens aren't the only way to partition the room. We'll look at some creative options in Part 2.

From the Bedroom Source blog:
The Bedroom Source
Located near the Roosevelt Field Mall on Long Island, The Bedroom Source is your source for the best collection of children's and teen bedroom furniture. From flexibly configurable Maxtrix furniture to fashionable Smartstuff collections, The Bedroom Source offers high end furniture and professional design assistance to create the bedroom of your child's dreams.
Contact the friendly staff at The Bedroom Source by calling (516) 248-0600 or by submitting our online contact form. We're a local family owned mom & pop store. When you shop with us, you're dealing directly with the owners. We professionally assemble everything we sell. We deliver to Nassau, Suffolk, the 5 Boroughs, Southern Westchester, Southwestern Connecticut & Northern New Jersey.