Posted on 02/23/2015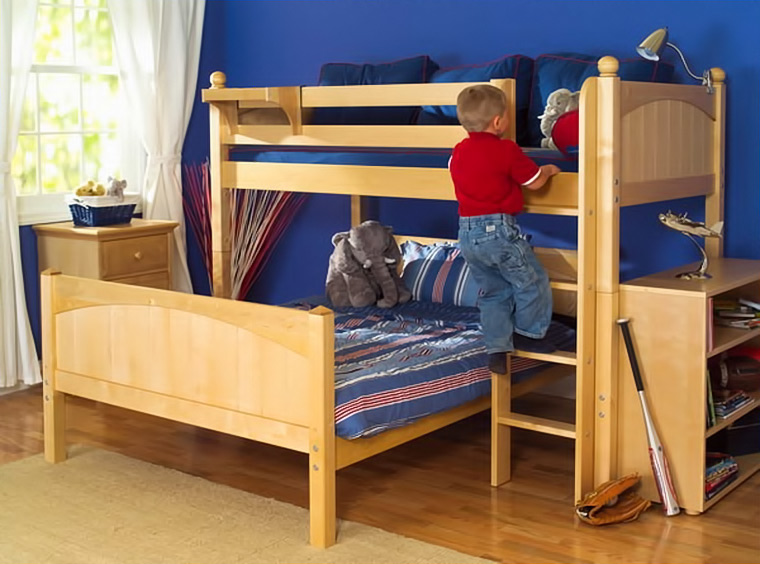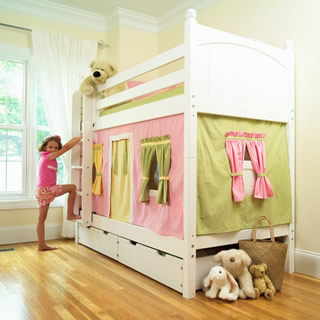 Just when you concluded that a bunk bed was a not-so-safe, boring cop-out to maximize the square footage in your child's bedroom, let our Maxtrix® System challenge the status quo by offering you the best combination possible: (1) multiple bed configurations, (2) optimal space savings, and (3) safety-approved construction.
Multiple Bed Configurations
Think beyond the two beds stacked directly atop one another: Maxtrix offers plenty of double bunk arrangements, along with specialty configurations combining up to a whopping 6 beds in a single unit.
At The Bedroom Source, we can help you consider various arrangements, as well, including an L-shaped bunk bed, a twin-over-full bunk bed, a typical stacked unit (with 2 or 3 bunks), a corner bunk bed, parallel beds (for when you don't want them "bunked"), or even play bunks. And speaking of play bunks, our play bunks can include under-bed curtains, top tents, towers, and even slides.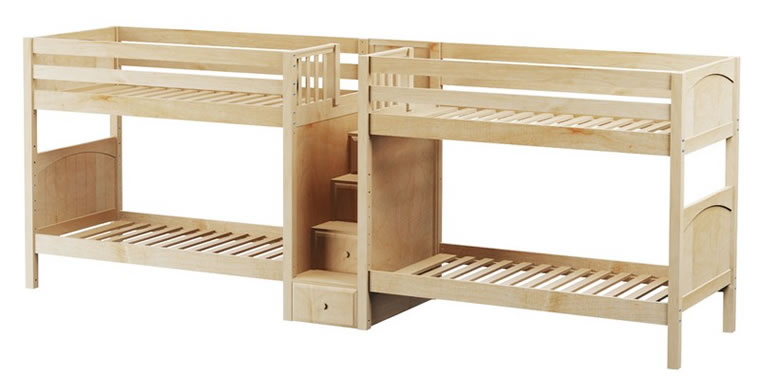 The best part of any of our unique bunk bed arrangements is that once you make a choice, you don't have to stick with it! Our bunks all start with our basic bed and leg extensions with lock-rock connectors that allow you to switch among our many bunk bed configurations as well as transform your furniture into loft beds or single beds. Any of our furniture pieces are available in chestnut, natural, or white finish.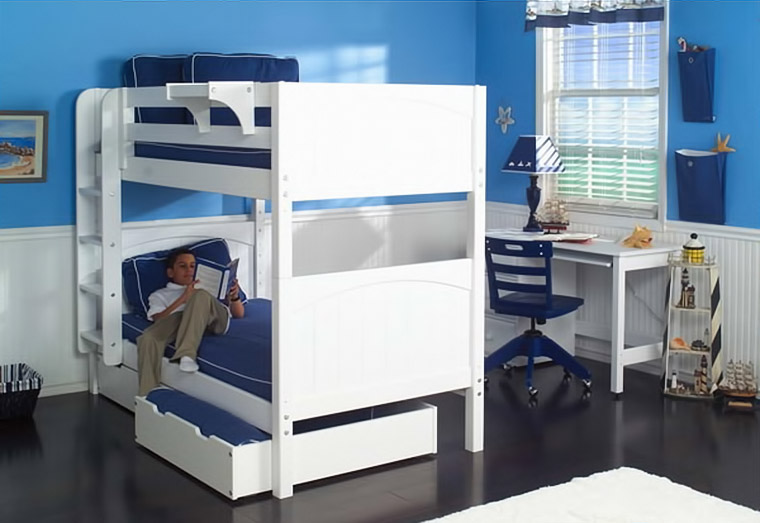 Optimal Space Savings
In addition to saving floor space by stacking multiple beds, our bunk beds and loft beds allow for built-in storage as well as organizational options. For example, our staircase bunks provide additional storage in each step, which doubles as a pull-out drawer.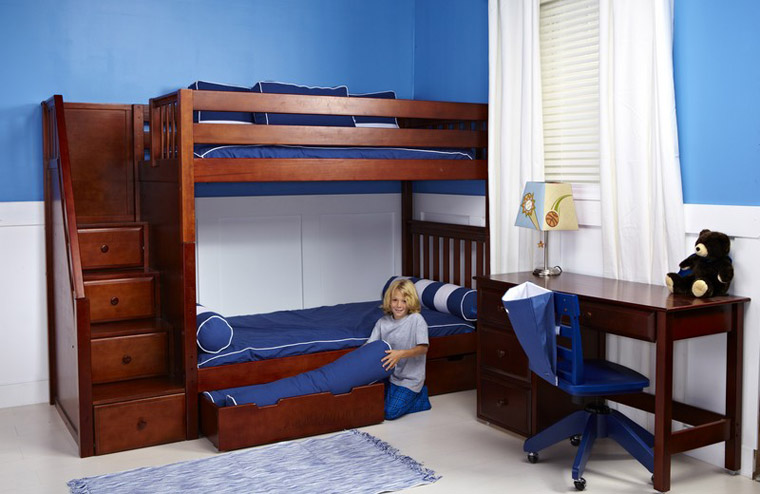 Our trundle beds, like all our beds, include slat rolls that provide enough support for a full-grown adult, reducing the need to take up valuable floor space with a guest bed or offering uncomfortable options such as air mattresses. You can also add any of our coordinating underbed storage or bedside storage options to virtually any of our beds.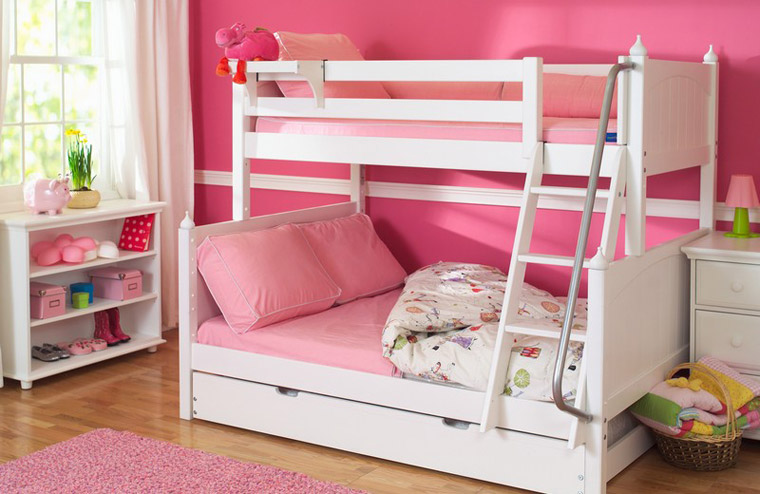 Safety-Approved Construction
One of the many facets of the Maxtrix Children's Furniture System that sets it apart from the typical bunk bed is its safe and sturdy construction. Since we use only solid, natural wood, our furniture will outlast most other children's furnishings.

Instead of providing an unstable foundation of 8-10 cheaply constructed plywood slats, we offer a durable base of 14 slats, each of which is 3.5 inch-wide natural wood. The result? Instead of holding up to only a child's weight, our beds have been tested to support up to 800 pounds. Sturdy bed slats outperform bunky boards (which can trap in moisture), because slats allow for proper air ventilation, resulting in a much healthier mattress.
Our angled ladders with handrails or staircase options, along with extra-high safety rails, provide additional safety factors, as well.
For parents interested in long-term solutions to children's bedroom furnishings without sacrificing space-saving and safety options or eliminating the potential for future rearranging, the Maxtrix Furniture System provides an all-around answer.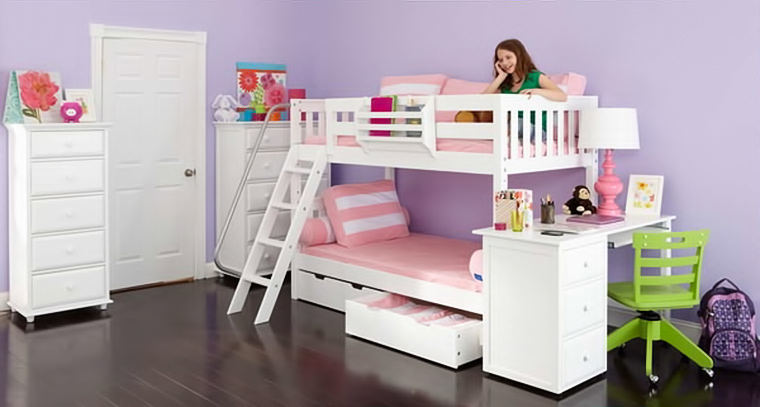 The Bedroom Source
Located near the Roosevelt Field Mall on Long Island, The Bedroom Source is your source for the best collection of children's and teen bedroom furniture. From flexibly configurable Maxtrix furniture to fashionable Smartstuff collections, The Bedroom Source offers high end furniture and professional design assistance to create the bedroom of your child's dreams.
Contact the friendly staff at The Bedroom Source by calling (516) 248-0600 or by submitting our online contact form. We're a local family owned mom & pop store. When you shop with us, you're dealing directly with the owners. We professionally assemble everything we sell. We deliver to Nassau, Suffolk, the 5 Boroughs, Southern Westchester, Southwestern Connecticut & Northern New Jersey.
Maxtrix® is a registered trademark of Maxwood Furniture.