Posted on 01/27/2016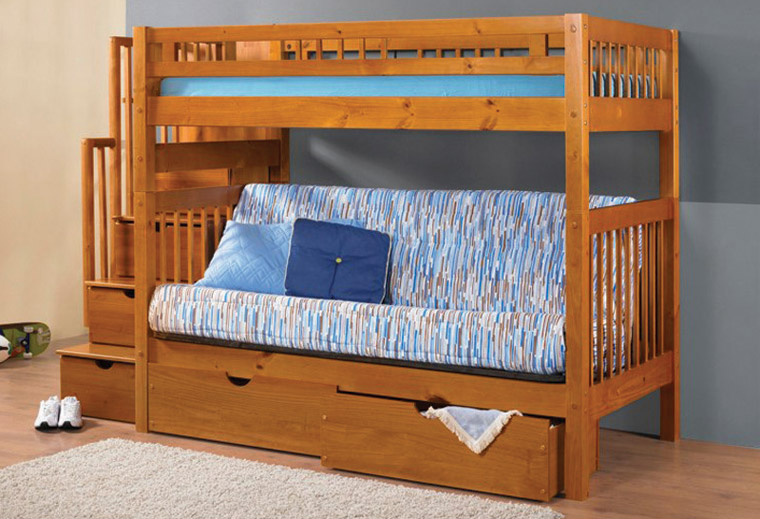 If you think bunk beds are one-size-fits-all, you're wrong! If you step into The Bedroom Source showroom, you'll quickly see that these aren't your camp-style bunk beds, your grandma's bunk beds, or anything like them! Today's premium bunk beds come with many options when it comes to design, configuration, and transformation potential. So if you've been closed to the idea of having bunk beds before, it may be time to reconsider and check out the many possibilities we have to offer.
Unique Designs
This Santa Fe Futon Bunk Bed (pictured above) is one example of a unique bunk bed design. It includes side stairs and spacious under-bed storage. The bottom bed can remain folded in a couch configuration or open flat to become a full sized bed.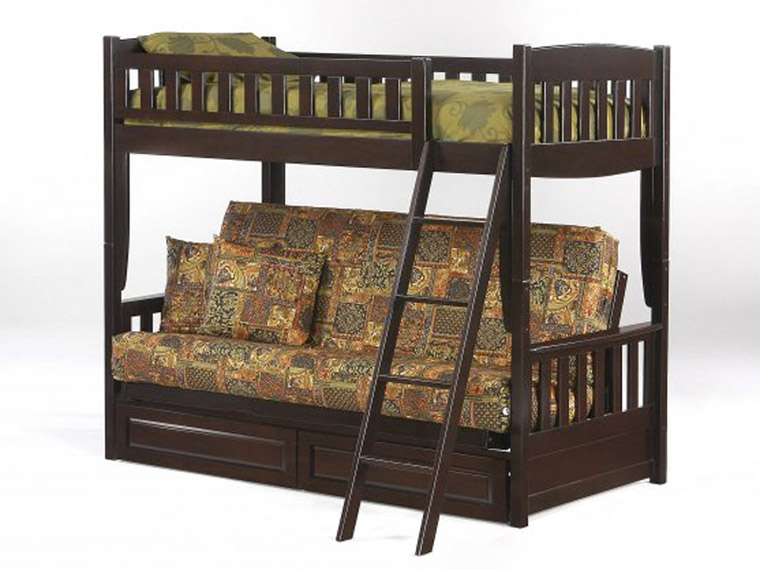 While the Santa Fe comes in only a Pecan finish, our Mountain Futon Bunk Bed (pictured above) is available in five distinct finishes: Bright White, Cherry, Espresso (pictured), Honey, or Natural. Optional under-bed accessories include either a single Twin-sized Slatted Trundle Bed or a pair of Rolling Storage Drawers.
Unusual Configurations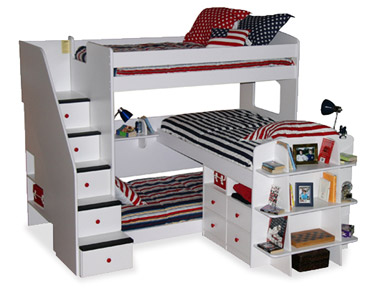 We do carry plenty of beds that utilize a typical bunk bed configuration consisting of two twin beds, with both mattresses facing the same direction. However, we also carry triple and quadruple bunk beds, as well as twin-over-full bunk beds, and bunk beds that have mattresses positioned differently from the status quo.
For instance, this Ultra-High Triple Twin Loft with Stairs (pictured to the right) stacks three twin beds, along with storage potential. The 5-Drawer Staircase can be set up on either the left or the right side, and an optional 4-Drawer Chest or Open Shelf Bookcase can add additional storage to the unit. This unique bed comes in your choice of Brandy, Chestnut, Nutmeg, Pewter, or White.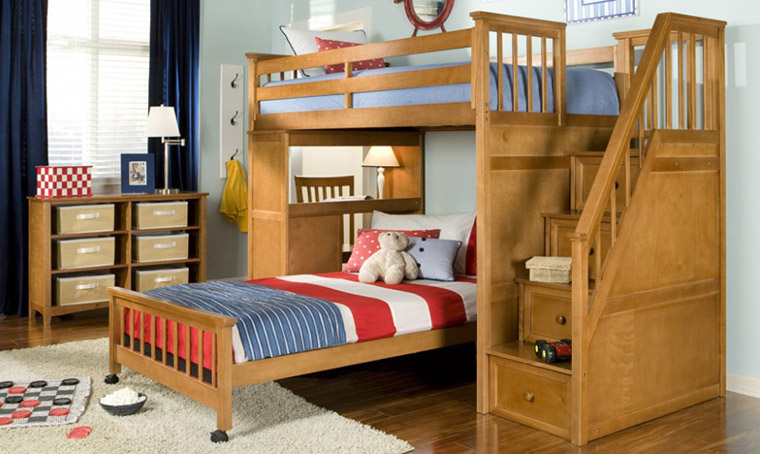 Another unusual configuration can be found in the Valley Stair Loft (pictured above). Offering the safety of a staircase, complete with handrail, this design offers you your choice of a twin or full-sized lower bed along with a desk that's fully integrated and four built-in drawers as part of the staircase design. The bottom drawer is actually a rolling Toy Box that has an unusual amount of storage potential. This bed comes in Cherry, Chocolate, Pecan, or White finish.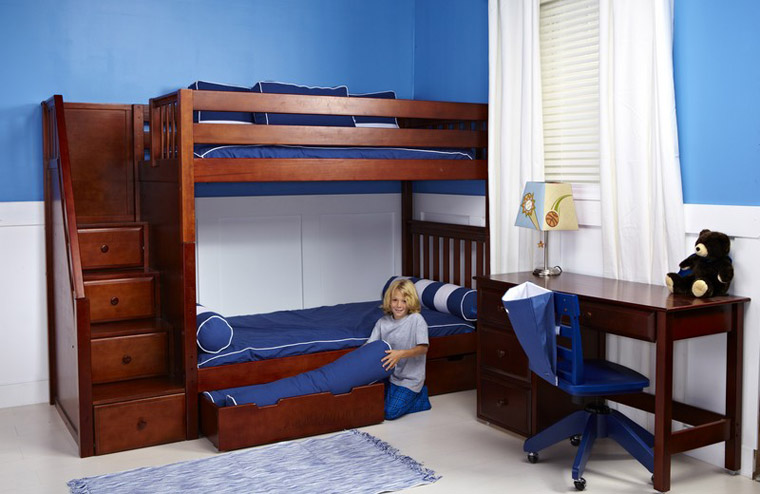 Unprecedented Transformation
There's absolutely no contest when it comes to the best value in children's bedroom furniture: The Maxtrix® System offers an unprecedented amount of flexibility when it comes to tailoring your child's bed to his or her current needs.

A Maxtrix bunk bed is actually comprised of two Basic Beds, which can stand alone as traditional or day beds or as low, medium, high, or ultra high loft beds. Bunk beds can consist of twin-over-twin or twin-over-full configurations at your choice of low, medium, or high heights, and with either a ladder or staircase.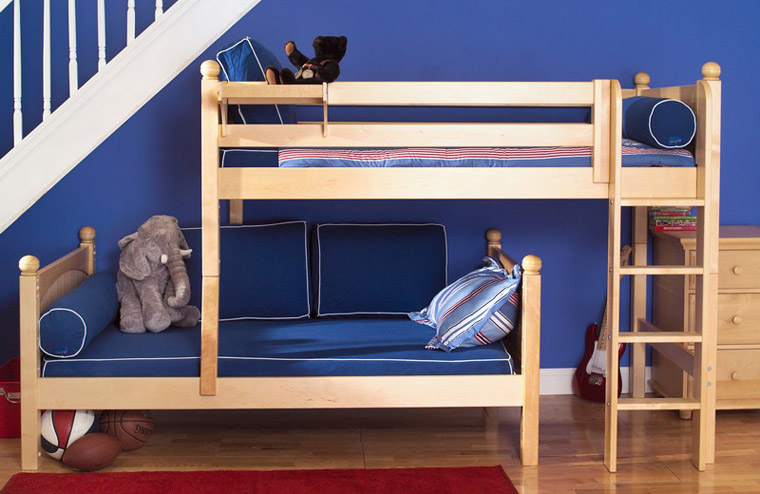 As we all know, chidren's needs are liable to change, and with Maxtrix, that's okay, because their beds can transform along with them! For a complete picture idea of all the options available with the Maxtrix system, flip through our 80-page Maxtrix catalog found on this page.

From the Bedroom Source blog:
The Bedroom Source
Located near the Roosevelt Field Mall on Long Island, The Bedroom Source is your source for the best collection of children's and teen bedroom furniture. From flexibly configurable Maxtrix furniture to fashionable Smartstuff collections, The Bedroom Source offers high end furniture and professional design assistance to create the bedroom of your child's dreams.
Contact the friendly staff at The Bedroom Source by calling (516) 248-0600 or by submitting our online contact form. We're a local family owned mom & pop store. When you shop with us, you're dealing directly with the owners. We professionally assemble everything we sell. We deliver to Nassau, Suffolk, the 5 Boroughs, Southern Westchester, Southwestern Connecticut & Northern New Jersey.