Posted on 09/09/2015
Here at The Bedroom Source, we offer a number of choices for beds, not only in available brands, but in types of beds. Factors such as the number of children who will be sleeping in a room, the amount of necessary storage space, or the general decor of a room help to dictate the type of bed chosen. Each bed has its own benefits for both practicality and style.
Let's review some categories of beds available.
Day Beds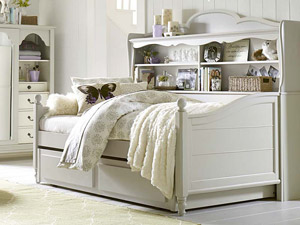 When a bed needs to double as a couch for a sitting area during the day, a day bed comes in handy for this dual purpose.
Whether you want a bed with solid wood sides or open posts on the ends, you can choose from a number of styles available. Our website has a broad range of options to consider from.
If you need extra storage space, beds such as the Mica Storage Day Bed come with drawers and shelves for keeping clothing and other items neatly tucked away. Choices of both twin and full size beds with custom sizing available, including extra features such as baseboard notches to fit over heaters, allow for a perfect fit for many different rooms.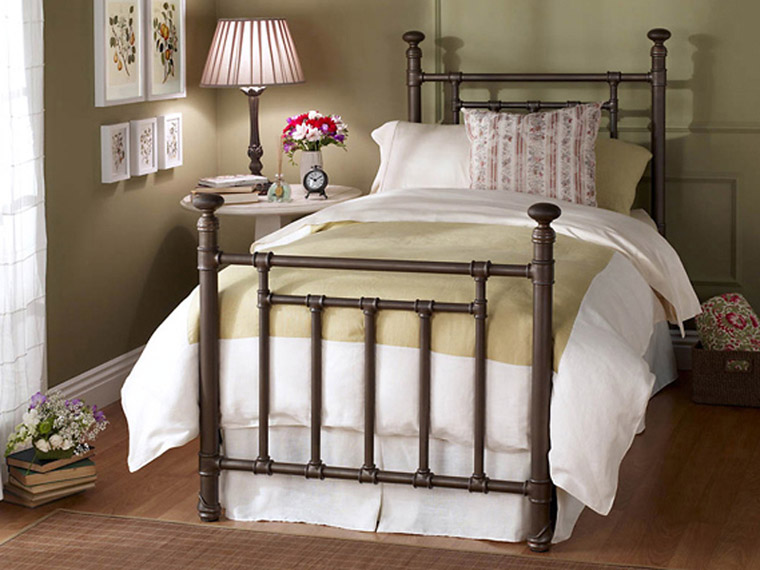 Iron Beds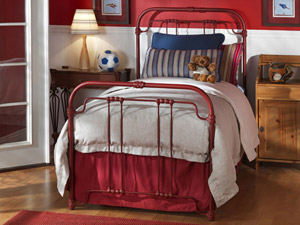 If you like the classically styled metal beds of yesteryear, then we have a perfect match for you with our iron bed collection.
Ornate, stylish patterns on sturdy iron frames ensure that these iron beds will hold up for many years. With models available in twin, double, queen, and king sizes, iron beds are available to fit a number of rooms. We've got styles for boys and for girls as well as more neutral styles.
Note that certain types of iron beds may require a box spring to be placed under the mattress, while other iron beds may come with the option of a slatted frame to support a mattress. In these beds, a pop out trundle creates extra space for sleeping.
Platform Beds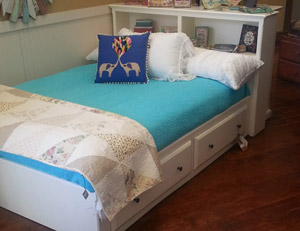 With solid wooden frames supporting these beds underneath, a platform bed is a smart option for sleeping a single child in a room.
Many models come with drawers, shelves, and/or cabinets underneath for keeping extra blankets and clothing, making the most of the space available.
In fact, the Mica Mini Loft even comes with the option of a bookshelf headboard to keep books readily accessible for nighttime reading. On many beds, you can choose the side(s) to include drawers based on the desired room's layout.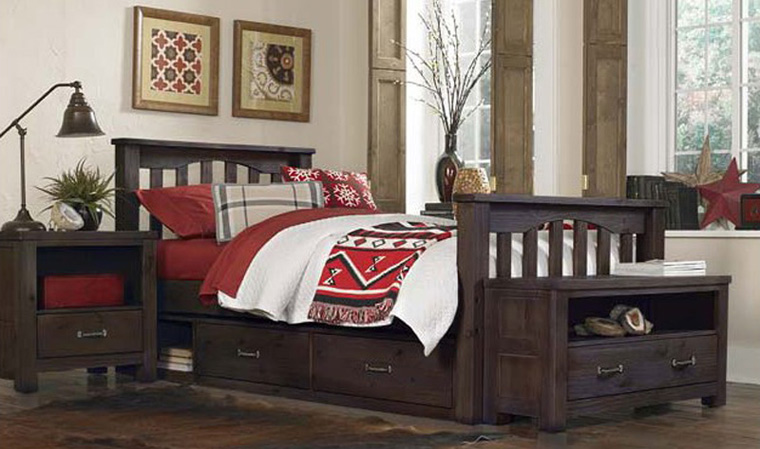 Storage Beds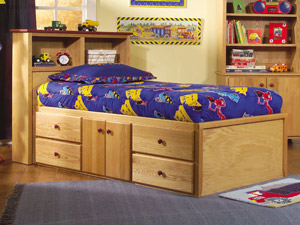 While many of the beds presented already include space for storage underneath, some units include an exceptional amount of room for keeping extra items. Perhaps you don't have room for a dresser and need to make the most of the space available under a bed, or maybe you just need extra space for tucking away seasonal clothing not in use.
Whatever your purposes, you can find a bed that fits your child's bedroom and includes the necessary storage capacity. For example, the Sierra Captain Bed includes a three drawer dresser next to a large cabinet, along with three additional drawers under the stairs leading to the bed. The option of a pull-out desk under the bed area adds additional workspace and shelves in one compact unit.
Whether your priorities include using a bed as a sitting area, incorporating extra storage, or just giving your child a sturdy place to sleep, you can find a bed to suit your needs at The Bedroom Source. Browse our online selection and inquire to customize a bed today.
The Bedroom Source
Located near the Roosevelt Field Mall on Long Island, The Bedroom Source is your source for the best collection of children's and teen bedroom furniture. From flexibly configurable Maxtrix furniture to fashionable Smartstuff collections, The Bedroom Source offers high end furniture and professional design assistance to create the bedroom of your child's dreams.
Contact the friendly staff at The Bedroom Source by calling (516) 248-0600 or by submitting our online contact form. We're a local family owned mom & pop store. When you shop with us, you're dealing directly with the owners. We professionally assemble everything we sell. We deliver to Nassau, Suffolk, the 5 Boroughs, Southern Westchester, Southwestern Connecticut & Northern New Jersey.