Posted on 05/31/2015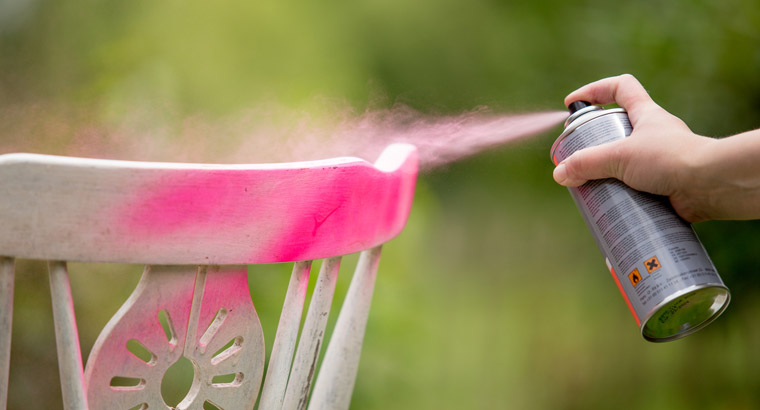 In addition to Annie Sloan Chalk Paint and the other Specialty Paints we touched on in Part 1, there are some other tried-and-true paint options you'll want on your radar if you're going to try your hand at some DIY repurposed furniture.
Spray Paint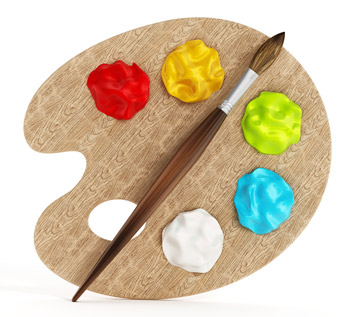 Spray paint is, by far, the quickest and easiest way to add color to a piece. Running can be an issue, especially if you spray too closely or too much. Using a 12-18" distance and spraying multiple thin coats is the secret to a great spray-painting job. Without having to worry about brush strokes or getting into each crevice of detailed furnishings, even the least patient among us can handle a can of spray paint. You may need to roughen up the piece with sand paper and prime with a spray primer or brush first. Topping the color with a spray-on clear coat is always a good idea, too.
Once you understand a few basics and consider the unique aspects of the surface you plan to spray, you'll probably start getting a little spray paint happy! And there's nothing wrong with that!
Acrylic Paints
These babies come in little bottles and myriad color and effect options. They're ideal for adding initials, handprints, or other details. While you wouldn't want to paint an entire furniture piece with these, they're a handy little option for that added "wow" factor. Because they're perfect for detail work and suitable across several mediums, they can help you pull together that upcycled Dress-up Wardrobe with the throw pillow on your child's bed and the canvas hanging above her desk, a well-chosen acrylic can help you. Simply follow this tutorial for creating a monogram using a DIY stencil from a font of your choice. (If you don't have a Silhouette, you can use a commercially produced stencil or simply print a letter on card stock in a large-sized font and cut it out using good, old-fashioned scissors.)
You could easily paint an inexpensive canvas from your local craft store one color and tape off to create a simple pattern, such as chevron, and then use a stencil and darker color to create a monogram or another shape. Alternatively, you could "cheat" and use patterned fabric or scrapbook paper. The same method could be used to personalize the side of an upcycled furniture piece or a throw pillow.
If your head is spinning with all the options, and you just can't choose, remember that many specialty paints come in spray varieties, and creating a few simple pieces is better than getting caught up in finding out the best-ever-way-to-do-it and never actually accomplishing a single thing.
The Bedroom Source
Located near the Roosevelt Field Mall on Long Island, The Bedroom Source is your source for the best collection of children's and teen bedroom furniture. From flexibly configurable Maxtrix furniture to fashionable Smartstuff collections, The Bedroom Source offers high end furniture and professional design assistance to create the bedroom of your child's dreams.
Contact the friendly staff at The Bedroom Source by calling (516) 248-0600 or by submitting our online contact form. We're a local family owned mom & pop store. When you shop with us, you're dealing directly with the owners. We professionally assemble everything we sell. We deliver to Nassau, Suffolk, the 5 Boroughs, Southern Westchester, Southwestern Connecticut & Northern New Jersey.
Image credits: Top photo © LeanderVasse/Fotolia; Middle photo © Destina/Fotolia; Bottom photo © Nenadaksic/Fotolia.