Posted on 08/19/2014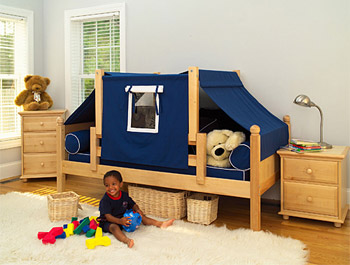 When your child starts growing to the point where he's too big for a crib, you know you'll have to search for a larger bed. Ideally, you'd like a bed that can hold up against the treatment of a toddler and last for years to come. In addition, you'd like to make the most of the space in the bedroom, finding other uses for a bed besides sleeping.
The Maxtrix® bedroom system includes a full range of furniture intended to grow along with your children and family. For now, we'd like to focus on the features and benefits of the daybed, the core element of the system.
A daybed can function as a safe, comfortable place to sleep at night, while turning into a place to sit and play during the day. Maxtrix® daybeds, which come in full or twin sizes, are highly customizable to suit the simplest or fanciest of setups.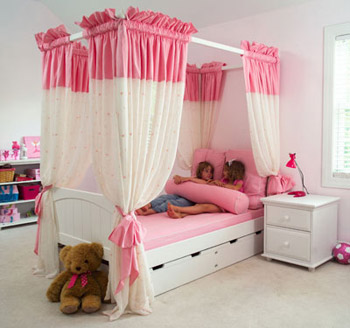 First of all, adding safety rails, which reach 17 inches high, ensures your child is safe from falling out onto the ground. These rails, available in full or half length, can be added to the front and back and are easily taken out once no longer needed.
You can also purchase mattresses suited to the size of these beds, along with mattress covers and pillows with coordinating colors. Choose from color schemes to suit either boys or girls. An available trundle bed increases storage space while fitting perfectly underneath the main bed.
To add to the fun of daytime play, add a tent to the top of any Maxtrix® daybed, turning the bed into a playhouse, a castle, a campground, or whatever else your child may imagine. For girls, choose from various shades of pink, purple, and green, along with curtains that open and close to keep them in control of their own house. They can be princesses over their own domains once they set up their tents for play during the day and will have more privacy for sleeping at night.
For boys, give them an early taste of camping out as a Boy Scout, with a variety of blue, red, and cream color schemes. They'll almost picture a roaring campfire right outside the tent (just don't try cooking s'mores in the bedroom). In addition, when it's time to turn out the lights, the tent fabric muffles sound and blocks light to provide a peaceful sleeping environment.
As another benefit of Maxtrix® daybeds, they can change to accommodate growing children and families. Height and width extensions allow these beds to become loft or bunk beds as kids become older and more family members need their own bedroom space.
In addition, a number of options for accompanying furniture exist to match the Maxtrix® beds. Choose from dressers, chests, desks, and nightstands with a variety of wood stains, colors, and styles to match any decor.
For more information on the Maxtrix® system, browse the Maxtrix examples on the Bedroom Source website, view the Maxtrix video below, page through the Maxtrix catalog below to find the products that suit your child's bedroom, and call one of the friendly Bedroom Source staff at (516) 248-0600. We deliver to Nassau, Suffolk, the 5 Boroughs, Southern Westchester, Southwestern Connecticut & Northern New Jersey.
The Bedroom Source
Located near the Roosevelt Field Mall on Long Island, The Bedroom Source is your source for the best collection of children's and teen bedroom furniture. From flexibly configurable Maxtrix furniture to fashionable Smartstuff collections, The Bedroom Source offers high end furniture and professional design assistance to create the bedroom of your child's dreams.
Contact the friendly staff at The Bedroom Source by calling (516) 248-0600 or by submitting our online contact form. We're a local family owned mom & pop store. When you shop with us, you're dealing directly with the owners. We professionally assemble everything we sell. We deliver to Nassau, Suffolk, the 5 Boroughs, Southern Westchester, Southwestern Connecticut & Northern New Jersey.
View Our Maxtrix Furniture Catalog