Posted on 10/10/2015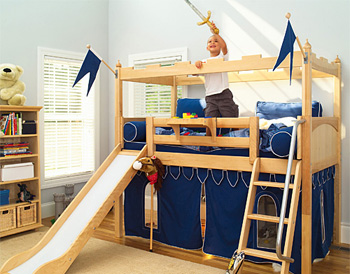 A princess sits up in her house and draws open the curtains to start a new day. Within the purple fabric surrounding her home, stuffed animals sit ready to await her commands. It's almost time to start on breakfast, with plastic teacups, plates, and silverware ready for palace cooks to do her bidding.
Meanwhile, in the woods surrounding the princess's home, wolves howl as a solitary boy lies in his tent for the night. He rolls down a window cover to conceal the opening and hide away in his tent. Beside him, a loyal stuffed dog keeps watch. The boy prepares for another day in the wilderness until... mom calls, "Time for school!"
Children's imaginations know few limits in turning their surroundings into sites for adventure. Maxtrix® daybeds serve merely to supplement imaginations by changing beds into tents, houses, castles, and whatever else children may conceive their locations to be.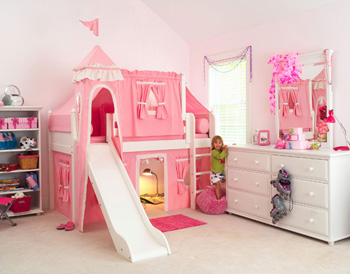 A Maxtrix® unit starts with a simple day bed, in a twin or full size, and builds to include leg extensions, bunks, ladders, storage units, and more. Beyond simple practical applications, bed options include multiple variations to turn a simple bed into an elaborate play area, with customization for either boys or girls.
First of all, a top tent can turn a girl's bed into a playhouse, complete with curtains that your daughter can easily open or close. Available in several color schemes, including pink, purple, and green, the tent structure attaches to and comes off from the bed with little effort.
For a boy, a more masculine tent almost feels like an outdoor camping experience to prepare for the Boy Scouts. This unit includes a window with a cover that rolls down to provide extra privacy as well as keep out noise and light for a sound sleep.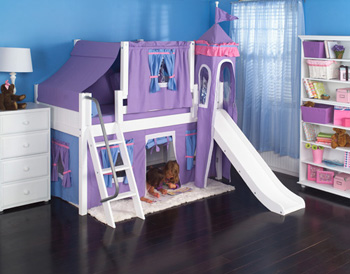 To increase the playground feel in a room, raise a daybed with leg extensions and add a slide. Your child will enjoy being able to climb a ladder up into bed and leave by sliding down. You can further enhance a low loft bed with a bottom tent level as well as a top tent or tower. That way, your child can sleep on top and have a playhouse area underneath the bed. A sturdy guardrail, among the highest available for children's beds, ensures safety.
A fully equipped bed worthy of any knight or princess provides a complete castle experience, with a tower on top complete with flag, slide, and tent areas underneath and above. Your child can rule his or her domain with a number of style and color options for either boys or girls.
Finally, fantasy beds can come equipped as poster beds for girls to provide a full princess sleeping experience or fort beds for boys, with wooden turrets on the top as well as a slide and tent.
Whatever space you have available to equip your child's room, consider furniture that will allow the bedroom to double as a playroom. The Maxtrix® system offers almost endless possibilities for both comfortable rest and exciting play for your child.
The Bedroom Source
Located near the Roosevelt Field Mall on Long Island, The Bedroom Source is your source for the best collection of children's and teen bedroom furniture. From flexibly configurable Maxtrix furniture to fashionable Smartstuff collections, The Bedroom Source offers high end furniture and professional design assistance to create the bedroom of your child's dreams.
Contact the friendly staff at The Bedroom Source by calling (516) 248-0600 or by submitting our online contact form. We're a local family owned mom & pop store. When you shop with us, you're dealing directly with the owners. We professionally assemble everything we sell. We deliver to Nassau, Suffolk, the 5 Boroughs, Southern Westchester, Southwestern Connecticut & Northern New Jersey.
View Our Maxtrix Furniture Catalog